April 10, 2012 -
Joe Fortenbaugh
New connections on the block
So if NFL offenses are evolving in a manner that leaves the workhorse running back on the verge of extinction, does this trend indicate that target-rich, high-volume receivers are now the key to postseason success in our current, pass-happy era?
Not exactly. In 2011, the league's top-four wideouts in terms of receptions (Wes Welker, Roddy White, Calvin Johnson and Percy Harvin) saw three of their teams advance to the playoffs to produce a combined postseason record of 2-3. Having an elite, No. 1 wide receiver like Megatron can mean big things for your offense, but it doesn't necessarily translate to success once the calendar flips to January.
Let's take a look at the last ten Super Bowl champions and the No. 1 receivers who led them into the title game: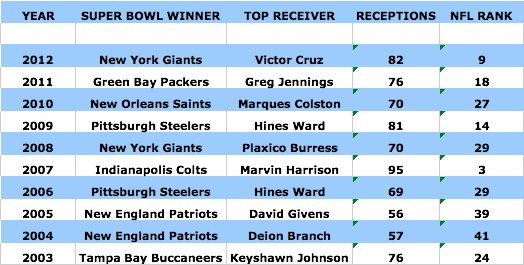 As you no doubt have already noticed, only two of the last ten Super Bowl winners have possessed a receiver who ranked in the top-ten in receptions during the regular season. Victor Cruz turned out to be a nice surprise for the Giants in 2011, but don't forget that Hakeem Nicks hauled in 76 receptions of his own. And while Packers quarterback Aaron Rodgers got the ball to Greg Jennings more than any other wideout in 2010, it was Jordy Nelson who caught nine passes for 140 yards and a score that led Green Bay to a 31-25 win over the Pittsburgh Steelers in Dallas.
<p> What this helps to explain about postseason success is that balance matters more than anything else. And we're not just talking about balance between the offense and defense, we're talking about balance between the passing and running games as well as balance amongst receivers, tight ends and running backs within the passing game.
March's free agent period altered the NFL landscape as it relates to the modern-era passing attack, as several notable quarterbacks and wide receivers landed in new cities to the tune of lucrative new contracts. But will any of those aforementioned transactions breed postseason success?
Let's take a look…
THE BIG FIVE
Tom Brady & Brandon Lloyd, New England Patriots: Wes Welker (122) and Rob Gronkowski (17) may have led the NFL in receptions and touchdowns, respectively, but what the Patriots didn't get from Chad Ochocinco is exactly what they'll find in the newly-acquired Brandon Lloyd: A wideout who can line-up on the outside and stretch the field vertically. New England's defense remains a concern, but with four legitimate pass-catchers taking the field on offense, the Patriots should have no problem scoring points in 2012.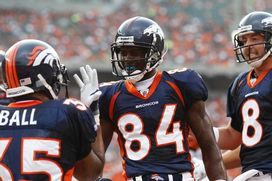 Lloyd may not be as high-profile as Vincent Jackson, but his impact could be greater.
Peyton Manning & Eric Decker & Demaryius Thomas, Denver Broncos: Marvin Harrison and Reggie Wayne circa 2006 it is not, but Decker and Thomas give Manning an effective 1-2 punch at wideout that the signal-caller could use to wreck havoc on AFC West cornerbacks. The health of both young receivers could be a concern at times, but if Manning could turn a sixth-round pick like Pierre Garcon into a multi-million dollar receiver, it's likely he could work the same magic in Denver.
Josh Freeman & Vincent Jackson & Mike Williams, Tampa Bay Buccaneers: He may have caught the same amount of passes (65), but Williams' yardage and touchdown totals plummeted during his second NFL campaign, opening the door for the Bucs to spend $55 million on free agent Vincent Jackson. V-Jax's presence on offense will provide Williams with more favorable cornerback matchups, which should, in turn, give Freeman two big-play options when Tampa finds itself in the red zone.
Jay Cutler & Brandon Marshall, Chicago Bears: The trade for Marshall gives Chi-town the No. 1 receiver the city has been in desperate need of for some time, but for the Bears to truly contend for the Super Bowl next season they'll have to get some consistent production from another member of the receiving corps. A slightly less explosive version of the Stafford-Johnson connection coupled with an aging defense will only get you so far in January.
Philip Rivers & Robert Meachem & Vincent Brown, San Diego Chargers: The loss of Vincent Jackson to free agency was quickly negated by the signing of Meachem, which should help to provide Rivers with an arsenal capable of getting him to the 4,800-passing-yard plateau next season. Seven-year veteran Malcom Floyd has had trouble staying healthy, so don't be surprised if second-year man Vincent Brown (19-329-2 in 2011) emerges as Meachem's sidekick.
THE DEEP SLEEPER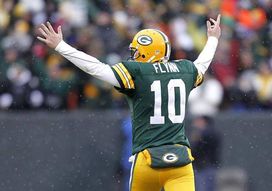 The Seahawks could be on to something if Flynn lives up to the hype.
Matt Flynn & Sidney Rice & Mike Williams, Seattle Seahawks: If Flynn can live up to expectations, Rice can stay healthy and Williams can regain his 2010 form, look out. This tandem would give the former Packers quarterback two 6'4" receivers who could make life in the red zone a thoroughly enjoyable experience. Coupled with the presence of running back Marshawn Lynch and emerging wideout Doug Baldwin, the Seahawks could have something cooking in 2012.
THE EXPERIMENT
Alex Smith & Michael Crabtree, Randy Moss & Mario Manningham, San Francisco 49ers: Smith will need to evolve past his current status of "game manager" before the Niners can even think about winning a Super Bowl. But with a new three-year contract and the additions of Moss and Manningham, San Francisco could be on to something. Of course, having Crabtree finally play like a top-ten draft pick could do wonders, too.
BOOM OR BUST
Robert Griffin III & Santana Moss, Pierre Garcon & Josh Morgan, Washington Redskins: After a seven-game stretch that saw the 'Skins score 17 or fewer points six times, it was clear in Washington that a complete overhaul was needed on offense. The Redskins spent over $50 million on free agent wide receivers Garcon and Morgan and shipped a boatload of draft picks to St. Louis for the opportunity to select Griffin. Moss provides stability and veteran leadership, but this will be a work in progress next season, which should make it all the more fun to watch.
Hit me up on Twitter: @JoeFortenbaugh