July 14, 2010 -
Joe Fortenbaugh
New faces, new places, new impact
The 2010 National Football Post Fantasy Draft Guide is on the verge of launching! Click here to purchase the information that led the NFP to a championship in the 2009 Fantasy Expert's League.
All 32 NFL teams are given the opportunity each winter to improve their rosters through a chaotic period known as free agency. Pro Bowlers sign with new teams, starters are traded and veterans are released to make room for incoming talent. Some teams dive into the free agency period head first with the intention that one or two key additions could trigger a Super Bowl run. Other teams sit back and wait for the draft.
Today we're going to take a look at some of the key offseason moves that went down this past winter and analyze what it all means for fantasy owners as draft day approaches.
Fantasy football at the NFP is back! Class is now in session.
Josh McDaniels completes roster purge, ships Brandon Marshall to Miami
Mark my words; this move is going to send shock waves through the AFC. Never mind the fact that McDaniels unloaded Denver's only viable No. 1 receiving option, leaving quarterback Kyle Orton with the not-so-promising trio of Eddie Royal, Jabar Gaffney and rookie Demaryius Thomas. The Marshall trade puts Miami in position to make a serious run at an AFC East championship.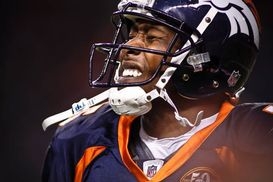 ICONMarshall's arrival in Miami should mean big things for quarterback Chad Henne.
Yes, the offseason hip surgery may force Marshall to get off to a slow start in August, but this is the same guy that has been targeted more times over the last three years than any other receiver (505) and has caught 100+ passes in each of the last three seasons.
Marshall's presence immediately upgrades the draft value of third-year quarterback Chad Henne (hint, hint: SLEEPER), who showed some promise last season despite playing with a second-rate receiving unit that was led by the underachieving Ted Ginn (who is now in San Francisco). In addition, expect former Hawaii standout Davone Bess to benefit from all the 1 v. 1 coverage he faces as a result of opposing defenses focusing on containing Marshall.
Let's also not forget the potent wildcat rushing attack, which has been known to keep opponents on their toes. The threat of a vertical passing system will prevent opposing defenses from stacking eight defenders in the box in an attempt to limit Ronnie Brown and Ricky Williams, meaning both backs should have an easier time gashing through the front seven.
Bottom line: Marshall's presence makes everybody better.
The Donovan McNabb/Kevin Kolb effect
Six-time Pro Bowler Donovan McNabb was traded to the Washington Redskins on Easter Sunday in a move that provides yet another storyline for the always entertaining NFC East.
McNabb's value is going to take a hit this season as he joins an offense that will no doubt throw the ball less than the pass-happy Eagles. He goes from young playmakers DeSean Jackson and Jeremy Maclin to aging veteran Santana Moss and unproven third-year receiver Devin Thomas. Not only that, but the offensive line in Washington is a step down from Philadelphia as well. Owners are also advised to keep in mind that McNabb has played just one 16-game season in the last six years. Don't consider him a fantasy starter this season.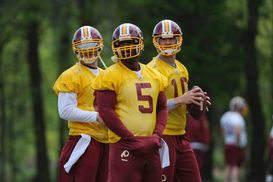 ICONFantasy owners should expect the injury-prone McNabb to miss at least two games this season.
However, one Redskin to keep an eye on is tight end Chris Cooley. McNabb has always been a fan of the tight end position and will no doubt target Cooley when the pocket collapses or his receiving unit fails to create separation down the field. Donny Mac turned Brent Celek into a fantasy force. He'll do the same with Cooley.
In Philadelphia, a new era begins as former second-round pick Kevin Kolb finally gets his chance to run the Eagles offense. Kolb's lack of experience has many fantasy owners puzzled about where to rank him entering 2010, but we're here to tell you that this guy is going to roll up the numbers.
It's no secret the Birds love to throw the football (Philly ranked 5th in pass to run ratio last season at 60.6%), meaning Kolb will have plenty of opportunities to rack up the points. He's got a top-flight supporting cast that consists of Pro Bowl wideout DeSean Jackson, second-year studs Jeremy Maclin (WR) and LeSean McCoy (RB) and emerging tight end Brent Celek.
Remember, Green Bay quarterback Aaron Rodgers is a prime example of how spending a few years learning from a Pro Bowler can have a positive impact on your game. Expect some mistakes and interceptions, but we feel confident ranking Kolb as a top-ten fantasy quarterback.
Warner's retirement triggers the start of the Hot Tub era in Arizona
Future Hall of Famer Kurt Warner hung up his cleats after 12 years of NFL service, leaving fans and wide receiver Larry Fitzgerald wondering about the future of the Arizona Cardinals franchise.
Enter the Hollywood Hot Tub.
Former top-ten draft pick Matt Leinart will look to prove the naysayers wrong as he finally steps into the starting lineup just over four years after leaving USC. Leinart will be a step down in accuracy and decision-making from Warner, but the hope in the desert is that the 27-year old has finally matured to the point where he can effectively run and lead an NFL offense.
But let's analyze this move for what it is. Most of you aren't concerned about drafting Leinart this summer. You're worried about his impact on star wideout Larry Fitzgerald.
Look at it like this: Pro Bowl wideout Anquan Boldin is gone (more on this later), meaning there is one less big-play threat around to steal targets from Fitzgerald. While we really like wide receiver Steve Breaston's upside this season, Fitzgerald will command the majority of Leinart's attention, as the young quarterback looks his way at the first sign of trouble. If you were a quarterback who felt the pocket collapsing and were unsure of where to throw it, wouldn't Fitzgerald be your first option?
The great thing about Fitz is that he's the best in the business at staying in balance down the field and winning the battle for the jump ball. His talent alone will make Leinart a better player. Therefore owners shouldn't hesitate to pull the trigger on the Pro Bowl wideout in the second-round.
As for Leinart, consider him a decent QB2 with some upside.
Raiders reduce training c amp food cost by unloading JaMarcus Russell
Russell is out which means the Oakland Raiders can finally go back to focusing on winning some football games.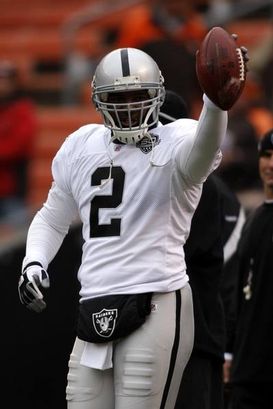 ICON"Save me some of that funnel cake."
The addition of former Redskins quarterback Jason Campbell isn't a headline-grabbing transaction like the Donovan McNabb trade, but it's going to have a significant impact in the fantasy football world.
Did you know that over the past two years no team in the NFL has had more 3 & out drives than the Oakland Raiders (116)? Campbell may not be a Pro Bowler, but he's a veteran quarterback that knows how to run an NFL offense.
Expect tight end Zach Miller to become a legitimate fantasy starter this season with Campbell at the controls. Miller has ranked in the top-12 in fantasy scoring among tight ends in each of the past two years. However, he's only scored four touchdowns during that span, which is the main reason Miller hasn't been able to crack the top-ten. Now that there is a legitimate starting quarterback running the offense, look for Miller to take a step forward in 2010.
In addition, third-year wideout Chaz Schilens has sleeper written all over him. The 6-4, 225-pounder has a very good chance of becoming Campbell's No. 1 receiving option. Louis Murphy and Darrius Heyward-Bey have some potential, but both are still very young and inexperienced.
After 17 years, Anquan Boldin finally gets his new contract
It will be strange next offseason when, for the first time in years, we won't hear Boldin's name linked to every NFL team in need of a productive wide receiver. The seven-year veteran got his long overdue payday in March when he agreed to a three-year extension worth $25 million after being shipped from Arizona to Baltimore.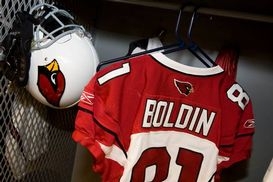 ICONThe jersey may say Arizona, but the talent left for Baltimore.
Just like the Brandon Marshall trade, this transaction is going to have a serious impact on the AFC this season. Boldin gives the Ravens a big-play threat at the wideout position to help in the development of quarterback Joe Flacco.
Speaking of Flacco, he's a guy all of you should have on your radars this summer. He took a big step forward in 2009, improving his quarterback rating from 80.3 in 2008 to 88.9 last season. He also scored 36 more fantasy points in his sophomore campaign than he did as a rookie. The addition of Boldin to play alongside veteran Derrick Mason gives Flacco a legitimate 1-2 punch that could boost him into the top-ten in fantasy scoring among quarterbacks this year.
Boldin's worthy of a fourth-round selection while Mason is a guy to target in the later rounds. Flacco will likely start the year as a QB2 on your roster, but don't be surprised if you start considering him for a starting roster spot early in the season. In addition, third-year back Ray Rice is a top-five pick no questions asked.
The Baltimore offense is going to open it up more in 2010. This team has Super Bowl contender written all over them.
Other transactions of note…
Tomlinson signs with the Jets: Don't get caught up in name recognition on draft day when it comes to Tomlinson. His yards per carry average has dropped in each of the past three years, bottoming-out at a career-low 3.3 in 2009. He'll play second fiddle to Shonn Greene to open the season, but don't be surprised if rookie Joe McKnight (USC) begins to steal some of L.T.'s touches by Week 8.
Bengals bag Antonio Bryant: Carson Palmer could be in for a big season now that he's got two legitimate big-play threats at his disposal. Bryant is just two years removed from a 2008 campaign in which he caught 83 passes for 1,248 yards and seven touchdowns. Next to Pro Bowler Chad Ochocinco, these two could do some serious damage. And don't forget about rookie tight end Jermaine Gresham, who gives Palmer a big red zone body to target.
Hit me up on Twitter: @JoeFortenbaugh