April 17, 2012 -
Joe Fortenbaugh
NFL gets it right on Thanksgiving
Gone are the days of watching the bumbling Lions get blown out in our Thanksgiving NFL appetizer only to move on to an afternoon game in Dallas that rarely delivered a highlight-worthy performance.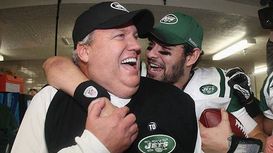 Will it be Rex Ryan and Mark Sanchez or Ryan and Tim Tebow taking on the Patriots Thanksgiving night?
The 2012 NFL schedule is being dissected like a frog in a tenth grade science class Tuesday evening and upon close inspection of Week 12, many will notice a Thanksgiving triple-header good enough to eat (that is, if you haven't already gorged yourself into a food coma on turkey and pumpkin pie).
At 12:30pm eastern the Houston Texans will travel to Detroit to take on the Lions in a matchup that features two playoff teams from last season. From there, we head to Dallas for a Cowboys-Redskins divisional showdown that will pit Tony Romo against rookie signal-caller Robert Griffin III.
And for dessert? That's the best part.
At 8:20pm eastern on NBC, Tom Brady and the New England Patriots visit New York to take on Rex Ryan and the Jets.
If Tim Tebow happens to be under center for New York, expect the NFL to cash in on a holiday ratings bonanza.
Hit me up on Twitter: @JoeFortenbaugh