October 26, 2011 -
Barry Dorey
NFL Over/Under Report: 2 games with value
Our good friend Warren Sharp from the incredibly insightful website SharpFootballAnalysis.com is back to help us examine two games on the Week 8 schedule where he's found some value.
For those of you who may be new to this column, Warren's website has been up and running for the last six years and the computer program he developed to analyze NFL totals has predicted winners 65% of the time, with over 350 plays issued. He's also gone 4-2 over the last two weeks in games he's broken down for the National Football Post.
In addition to his website, be sure to check him out on Twitter: @SharpFootball.
What Warren Sharp has noticed:
"As I predicted in the first article of this series two weeks ago, UNDERS were due to win as oddsmakers were way out of touch with their lines. After OVERS won in four of the first five weeks (46-29 prior to that point) the UNDERS have now won in back-to-back weeks, going 17-9.
Linesmakers reduced the average total in Week 7 to reflect the UNDERS going 10-3 in Week 6, but they raised the totals right back up for Week 8, to the third-highest average total of the season.
But the fact of the matter is that the totals are still not accurately reflecting the current market. In the first five weeks of the season, games were averaging 46.5 pts/gm with an average total of 44. However, scoring has dipped dramatically since teams have begun coming off their bye weeks. Over the last two weeks, games are averaging just 42 pts/gm and yet the average total has been 45, an even higher total than earlier in the season. Heading into Week 8, we once again we find an average total of 45.
Linesmakers likely see the fact that high-scoring teams such as the Bills, Patriots, 49ers, Giants and Eagles are all back after having their bye last weekend. But what the linesmakers didn't account for is the fact that higher scoring teams (those averaging over 24 pts/gm on the season such as the five teams I mentioned above), end up returning from their bye to score roughly 2.5 pts/gm less than their YTD average. So raising the totals this week in spite of the lower scoring may not be justified.
Let's monitor the totals this week and see if we have more UNDERS than OVERS and let's see if the following teams score more or less than their YTD average: Buffalo (31 pts/gm), New England (31 pts/gm), San Francisco (28 pts/gm), New York Giants (26 pts/gm) and Philadelphia (24 pts/gm)."
DALLAS COWBOYS (3-3, 1-2 road) at PHILADELPHIA EAGLES (2-4, 0-2 home)
Time: 8:25pm eastern
Opening line: O/U 51
Current line: O/U 50.5
Betting trends: 51% of the public is currently betting the UNDER.
Dallas: UNDER is 3-3 in six games played this year.
Philadelphia: OVER is 4-2 in six games played this year.
Over/Under Trends
1. The OVER is 12-3 in the Cowboys' last 15 games vs. NFC opponents.
2. The OVER is 7-1 in the Cowboys' last 8 games following an against the spread win.
3. The UNDER is 5-1 in the Eagles' last six games on grass.
4. The UNDER is 4-1 in the Eagles' last five home games.
Warren Sharp says: "Linesmakers are basing this total on the frenzy of the point production associated with the 2011 season as well as the Mike Vick influence, but bettors should know a few things about this game:
First, the Eagles are coming off a bye. Since 2000, Philadelphia has seen UNDERS go 14-2 off a bye (including the postseason), with those games going under by a solid seven pts/gm. Second, the Eagles have hosted the Cowboys with a posted total of 44 or higher just four times (all since 2004) and the UNDER is 3-1, going under by an average of 12 pts/gm. Third, in the 12 combined games these two teams have played this season, only three have gone over 51 points. The Cowboys' only game was the multi-pick-six outing for Tony Romo vs. Detroit and Philly's two games were on the road—against Buffalo and Atlanta—both of which have poor defensive numbers.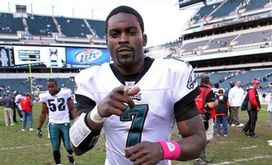 When sports bettors look at Michael Vick, they see a lot of points.
The big key here is that this is not only a divisional game (which you may recall from my article two weeks ago where I said divisional games result in more UNDERS and lower lined games than non-divisional games), but one team (the Eagles) is coming off a bye. Since 2009, divisional games totaled over 44 featuring one team off a bye have seen UNDERS go 10-3, including 7-1 if totaled 47 or higher.
The Eagles still have the stigma of being a porous and terrible defense after their first several games. While I won't say this defense is back to their Jim Johnson days, they are slowly getting better at their biggest weakness: rush defense.
After allowing the Falcons, Giants and 49ers to run through them in consecutive weeks, Philly held the Bills to one fewer yard per attempt than their year-to-date average and did the same with the Redskins in Week 6.
Meanwhile, the Cowboys come in with the third most efficient defense in the league—their highest ranking in years—are as healthy as they have been all season and are much more secure running Rob Ryan's defense. Remember, both teams switched to brand-new defensive schemes in the offseason. The longer both teams work in the same scheme, the better they will get. It doesn't hurt that the Eagles may get DE Trent Cole back, arguably the most vital cog in their defense, who missed the last two games.
If you need more convincing, look to the fact that teams off a bye this season have seen UNDERS go 9-3 by an average of 9 pts/gm. If the total is set above 44, UNDERS are 5-0, going under by an average of 12 pts/gm."
CLEVELAND BROWNS (3-3, 1-1 road) at SAN FRANCISCO 49ERS (5-1, 2-1 home)
Time: 4:15pm eastern
Opening line: O/U 39.5
Current line: O/U 38.5
Betting trends: 78% of the public is currently betting the OVER.
Cleveland: OVER is 3-3 in six games played this year.
San Francisco: OVER is 4-2 in six games played this year.
Over/Under Trends
1. The OVER is 7-3 in the Browns' last ten games vs. a team with a winning record.
2. The UNDER is 5-1 in the Browns' last six games as an underdog.
3. The OVER is 5-0 in the 49ers' last five home games.
4. The OVER is 13-3 in the 49ers' last 16 games following a bye week.
Warren Sharp says: "At initial glance, nobody in their right mind would play an OVER featuring Cleveland this week. Here's a team that put up just six points at home on Seattle and held the Seahawks to only three points in the lowest scoring game of the season. But that performance sets up some n ice value for us this week.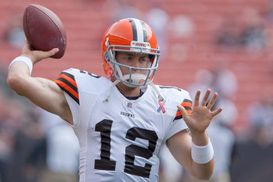 ICONMcCoy and the Browns struggled to score points last Sunday. History says that shouldn't happen again in Week 8.
Since 2002, when a team is off a game in which neither they nor their opponent scored a touchdown, with a total of 43 or less, the OVER is 16-5-2, going OVER by 8 pts/gm. If fewer than three total trips were made inside the red zone in that game, the OVER is 8-0-1, going over by 14 pts/gm.
Simply put, teams rarely are so bad to have back-to-back performances where neither team can get into the red zone and neither team scores a single touchdown. It's very unlikely to happen this weekend, but the line is heavily influenced by what we saw last Sunday.
What we watched was a sloppy game that went WAY under the total. And when a team is off of a game that went under by 30+ points and then plays a non-divisional opponent with a total below 42, OVERS are 7-0 since 2002, going OVER by 13 pts/gm. And when it comes to the Browns—after holding their opponent to under ten points in their last game and now facing a total set below 39—their OVERS are 8-0 since 2000.
Last weekend's performance was more of an aberration than anything and while I foresee the 49ers having significantly better success against Cleveland than the Seahawks did, I likewise see the Browns scoring more than two field goals.
Finally, OVER bettors can also take solace in the fact that this season, Sunday totals lined at or below 39 have seen the OVERS go 9-2."
For more great insight, follow Warren Sharp on Twitter: @SharpFootball
Hit me up on Twitter: @JoeFortenbaugh