February 07, 2013 -
Joe Fortenbaugh
NFL reinstates Gregg Williams
I guess we can put an end to all of that "lifetime ban" speculation.
Gregg Williams—the former New Orleans Saints defensive coordinator viewed by many as the architect of the bounty scandal that rocked the NFL last season—has been reinstated by the National Football League and hired by the Tennessee Titans as a Senior Assistant/Defense.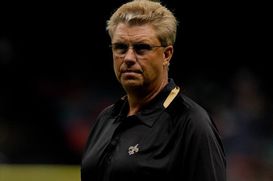 Gregg Williams returns to the NFL after a one-year suspension.
Williams spent three years in New Orleans (2009-2011) before landing the defensive coordinator gig in St. Louis under Jeff Fisher last season. Williams' opportunity in St. Louis never got off the ground as the league suspended him indefinitely last March for his role in the Saints bounty scandal.
The NFL released the following statement on Thursday:
"Commissioner Roger Goodell today notified Gregg Williams and the Tennessee Titans that Williams' contract with the Titans has been approved and that he has been reinstated. The commissioner cited several reasons for the reinstatement, including Williams' forthcoming acknowledgement of and acceptance of responsibility for his role in the bounty program at the Saints, his commitment to never again be involved in a pay-for-performance or bounty system, and his pledge to teach safe play and respect for the rules at all levels of the game. The commissioner emphasized that Williams must fully conform to league rules and will be subject to periodic monitoring to confirm his compliance."
Williams began his career in Tennessee, having spent four years as the team's defensive coordinator during his eleven seasons with the Titans. He'll have his work cut out for him trying to rebuild a unit that ranked 27th in total defense last season while surrendering an average of 29.4 points per game.
Hit me up on Twitter: @JoeFortenbaugh