January 22, 2013 -
Joe Fortenbaugh
NFL reinstates Saints head coach Sean Payton
Ten months and one disappointing 7-9 campaign later, New Orleans Saints head coach Sean Payton is allowed to return to work.
The National Football League released a statement Tuesday stating that Payton has been reinstated from his season-long suspension, following a meeting in New York between the coach and Commissioner Roger Goodell.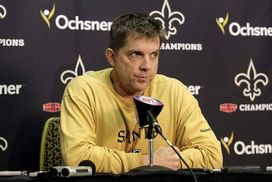 Payton is free to rejoin the Saints, effective immediately.
"We had a very productive discussion," said Goodell. "Sean fully complied with all the requirements imposed on him during his suspension. More important, it is clear that Sean understands and accepts his responsibilities as a head coach and the vital role that coaches play in promoting player safety and setting an example for how the game should be played at all levels. We are committed to delivering football that fans love and the safety players deserve. Coach Payton agrees and I look forward to working with him going forward to do that."
As a result, Payton is now permitted to attend the Senior Bowl in Mobile, Alabama this week, along with resuming all of the other duties that come with his head coaching gig.
Credit Goodell for making the move now, one week before the masses descend upon New Orleans for Super Bowl XLVII. The last thing the NFL needs at this point is for any element of the Bountygate scandal to distract from the operation's marquee event of the season. In addition, reinstating Payton now gives Goodell an opportunity to fan the flames of the New Orleans faithful, who aren't exactly thrilled with the way the Commissioner handled the scandal.
Hit me up on Twitter: @JoeFortenbaugh