October 19, 2011 -
Joe Fortenbaugh
NFL Totals Report: 2 games we're monitoring closely
Do you guys remember Warren Sharp's analysis on NFL totals heading into Week 6?
Well, you should, because he went 3-1 in the four games he helped us analyze.
For those of you who may be new to this column, Warren has been running the awesome website SharpFootballAnalysis.com for the last six years, where his computer program is hitting NFL totals at the impressive rate of 65% (350+ plays issued).
Warren was nice enough to speak with me again this week about some interesting NFL totals that jumped out at him when he began his Week 7 research. For more of his terrific insight, you can check him out on Twitter: @SharpFootball.
But before we get to Warren's analysis for Week 7, he wanted the share some of his thoughts on what went down in Week 6.
And away we go…
"If you read my blog last week, I mentioned how my research uncovered that linesmakers had set divisional totals WAY too high for Week 6. I explained why I believed that to be the case and anticipated unders coming through. Sure enough, of the five games I listed at the end of the post—which were the only five divisional games on last week's schedule—the unders went 4-1 (80%).
Last weekend, unders went a remarkable 10-3 (77%). Overs were hitting at a 46-29 pace prior to last week. This goes to show you that while many thought linesmakers couldn't set a total high enough, ultimately this league is very balanced and blindly betting anything simple (overs, for instance) is never a long-term winning strategy.
Linesmakers raised the average total each week this season and it was up to 46 last weekend. With only three overs cashing in Week 6, oddsmakers lowered the average number this week back to 44. Now it's your move. Will overs come back or will we finally see some balance? I have five totals plays released so far this week. Use the coupon code GetSharp to receive a 10% discount and see what my computer thinks will happen in Week 7."
CLICK HERE to check out the rest of the sides and totals for Week 7.
SEATTLE SEAHAWKS (2-3, 1-2 road) at CLEVELAND BROWNS (2-3, 1-2 home)
Time: 1:00pm eastern
Opening line: O/U 40
Current line: O/U 41
Betting trends: 88% of the public is currently betting the OVER.
Seattle: Over is 3-2 in five games played this year.
Cleveland: Over is 3-2 in five games played this year.
Over/Under Trends
1. The OVER is 13-3 in the Seahawks' last 16 games overall.
2. The OVER is 6-0 in the Seahawks' last six games following a straight up win.
3. The OVER is 4-1 in the Browns' last five games as a favorite.
4. The OVER is 6-2 in the Browns' last eight home games.
Warren Sharp says: "Since 2005, no team has seen more OVERS on the road than the Seahawks. 65% of their road games have gone over the total and a large part of that is their location and home environment. They are so remote and play in such a tough environment for visiting teams that the vast majority of home games go under (roughly 58% since 2005). This disparity—from 65% OVERS on the road to 58% UNDERS at home—is the largest swing in the NFL.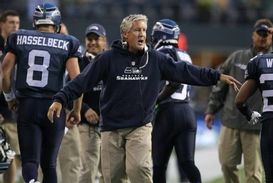 Since Pete Carroll took over in Seattle, overs have been cashing at a high rate on the road.
And this helps their OVERS on the road, as oddsmakers set their total to account for YTD performance, but that includes so many unders at home. Since Pete Carroll came to town, the tendency to overs is even greater, as 70% of the Seahawks' games overall (including 75% on the road) have gone OVER. The average total set was 41 and the average total points scored was 46.
When you need points, you need teams to convert in the red zone. No one would guess it, but both Seattle and Cleveland are currently in the top 10 in offensive red zone scoring percentage. Defensively they are both in the middle of the pack, though looking at just the three most recent games, Seattle is third worst in the league.
Don't forget injuries, where Seattle lost their best CB Marcus Trufant to IR earlier this week and the Seahawks may also be starting Charlie Whitehurst at QB, who has better passer rating and YPA (yards per attempt) numbers this season than Tarvaris Jackson."
ST. LOUIS RAMS (0-5, 0-2 road) at DALLAS COWBOYS (2-3, 1-1 home)
Time: 4:15pm eastern
Opening line: O/U 44.5
Current line: O/U 44
Betting trends: 50% of the public is currently betting the UNDER.
St. Louis: Under is 2-2-1 in five games played this year.
Dallas: Over is 3-2 in five games played this year.
Over/Under Trends
1. The UNDER is 4-0-1 in the Rams' last five road games.
2. The UNDER is 5-0 in the Rams' last five games played in October.
3. The OVER is 10-1 in the Cowboys' last 11 home games.
4. The OVER is 12-2 in the Cowboys' last 14 games vs. NFC opponents.
Warren Sharp says: "People remember back to last year's Dallas team and to all the OVERS they had at home. All eight home games went OVER. In my review of over 25 years of team data, I can't find a single other team who saw all home games on the season go over. But that is the reason they brought in Rob Ryan. His defense is vastly superior and the unit is much healthier this year.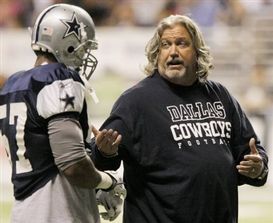 The addition of defensive coordinator Rob Ryan has been a big plus for this Cowboys defense.
How far have they come? Last year the Cowboys let the Jaguars (who averaged 21 pts/gm) score 35 points in Dallas. Last week they held the Patriots (who average 33 pts/gm) to 20 points in New England.
On the other side is Steve Spagnuolo's Rams, who have seen the second-most road UNDERS league-wide since he came to town in 2009. 71% of their road games go under. Despite scoring 18 points per game last year, new offensive coordinator Josh McDaniels' offense is posting just under 10 points per game this year. Adding Brandon Lloyd helps, but it's his first week in St. Louis and the Cowboys are very happy to have their #1 cover corner (Orlando Scandrick) back and healthy.
Given his background with the Giants, Spagnuolo is very familiar with the Cowboys. It will be his first time playing Dallas, but since joining the Rams, against the other teams in the NFC East, the Under is 2-1-2. Ironically, I would be more concerned if Bradford WERE NOT playing in this game, as his backup might turn the ball over more frequently leading to easy scores. Bradford, despite his poor play YTD, has only thrown 2 interceptions all season, 3rd fewest in the league.
Interesting trend: Since 1997, when the Cowboys host a team who struggles offensively (a veraging under 18 pts/gm) the under is 26-6 (81%), including 3-0 in 2009, going under by an average of 7 points per game. If this team is really bad, averaging fewer than 13 points per game, the under is 6-0. The Rams are currently averaging under 10 points per game.
If you want this under, wait until it is bet back to at least 44 with the news Bradford is starting. 44 is a valuable total to have."
Follow more of Warren Sharp's great analysis on Twitter: @SharpFootball
Hit me up on Twitter: @JoeFortenbaugh