August 26, 2013 -
Joe Fortenbaugh
NFL Week 1 market report
We begin our Monday ten days from the start of the 2013 NFL regular season and over three months removed from the time the first professional football point spreads hit the board in Las Vegas. Like an inexperienced boxer up against a slick and seasoned opponent, these point spreads have been hit from a variety of angles over the last three months, as both sharp and public money has flooded the market, compelling bookmakers to adjust their numbers in an effort to balance out the action.
Injuries, personnel changes and preseason performances—whether admirable or horrific—have all played a role in the side and total adjustments that have taken place to date, with the goal for bettors remaining the same as ever before: Beat the closing number. Additionally, the summer months have seen several notable organizations emerge to fall under the "overvalued" and "undervalued" designations, with the money following closely behind to support those positions.
"The Buccaneers, Chiefs and Bengals have all seen the most individual game and parlay money on their respective contests, while the Texans have also received a lot of straight play action as well," Jay Rood, Sportsbook Director for MGM Mirage's Las Vegas casinos told the National Football Post over the weekend.
"The public jumped on the Buccaneers, Chiefs and Bengals and we've seen a fair amount of parlay money on the Seattle Seahawks," said Rood. "The professional players have placed a lot of action on the Miami Dolphins, but the injury to tight end Dustin Keller has slowed that a bit."
NFL Kickoff 2013 gets underway in ten days and with that in mind, here's a look at what's taken place in the sports betting market since the opening numbers hit the board back in May.
THURSDAY, SEPTEMBER 5
Baltimore Ravens at Denver Broncos
Time: 8:30pm ET
MGM Open: Broncos -8/49.5
MGM Current: Broncos -8/49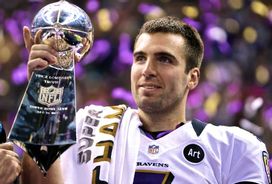 Joe Flacco took down the Broncos en route to winning the Super Bowl last season.
Analysis: Despite the fact that the Broncos are currently listed as high as -9 for their Divisional Round rematch with the Baltimore Ravens, the MGM/Mirage number has at no point eclipsed the -8.5 mark, making it a good 6-point teaser line for Broncos backers since they can move this spread through the key numbers of 7 and 3. Not counting the team's 38-35 playoff loss to the Ravens last January, Denver went 7-1 ATS at home in quarterback Peyton Manning's first season with the franchise. But take note that including the postseason, Baltimore boss John Harbaugh is a solid 29-21-1 (.580) ATS on the road since joining the Ravens in 2008.
SUNDAY, SEPTEMBER 8
New England Patriots at Buffalo Bills
Time: 1:00pm ET
MGM Open: Patriots -7/51.5
MGM Current: Patriots -7 (-120)/52
Analysis: The MGM is one of the few shops in Vegas still offering the Patriots at a flat seven for their opener at Buffalo, where the team has gone 11-2 straight-up against the Bills since 2000, winning by the ridiculous average of 14.46 points per game in the process. The Bills went 4-4 against the number at home in 2012 (0-1 ATS vs. New England on 9/30), but new head coach Doug Marrone has yet to settle on a starting quarterback for his debut with only 13 days remaining until kickoff. The Patriots are 25-13-2 (.658) ATS on the road since 2008.
Tennessee Titans at Pittsburgh Steelers
Time: 1:00pm ET
MGM Open: Steelers -6.5/43.5
MGM Current: Steelers -7/42.5
Analysis: The -7 hanging at MGM Mirage properties is the exact same price currently listed both around town and offshore, making the Pittsburgh-Tennessee matchup one of the few consensus offerings on the Week 1 schedule. Be advised that the Steelers enter this game with the revenge factor on their side after falling at Tennessee 26-23 during a Thursday night game last October. Also note that this will likely be one of the most popular 6-point teaser plays for Week 1, with bettors having the ability to drive the Steelers from -7 to -1. The Titans went 3-5 ATS on the road in 2012 while the Steelers posted a 3-4-1 ATS mark at home last season.
Atlanta Falcons at New Orleans Saints
Time: 1:00pm ET
MGM Open: Saints -3/54.5
MGM Current: Saints -3 (-115)/53.5
Analysis: While some in the mainstream media maintain that Atlanta was, in fact, as good as their 13-3 record last year indicated, many of the sharper bettors in Las Vegas are bearish on Matt Ryan and co. entering the 2013 campaign, which is likely part of the reason why this game hasn't budged off the key number of 3. The Falcons went 5-2-1 ATS on the road last season but have notched just one victory in New Orleans over the team's last seven tries (2010), with the Saints winning by an average of 8.4 points per game at home against Atlanta since Ryan joined the team in 2008. Head coach Sean Payton returns to the sidelines for a New Orleans franchise that is 28-14-1 (.667) ATS at home since 2008.
Tampa Bay Buccaneers at New York Jets
Time: 1:00pm ET
MGM Open: Buccaneers -2.5/41
MGM Current: Buccaneers -2.5/41
Analysis: If you favor the Buccaneers in this spot, it's worth noting that the MGM Mirage sportsbooks are the only shops in town still offering TB -2.5, with the rest of the industry anywhere from TB -3 to TB -3.5. Credit a revamped Tampa Bay secondary along with a disastrous quarterback situation in New York for the recent movements, as money started flowing on the Bucs in the wake of the Mark Sanchez injury Saturday night against the Giants. Tampa Bay went 6-2 ATS on the road last season (started year 5-0 ATS on road) while New York went just 3-5 ATS at home.
Kansas City Chiefs at Jacksonville Jaguars
Time: 1:00pm ET
MGM Open: Chiefs -2.5 (-120)/39.5
MGM Current: Chiefs -3 (-120)/41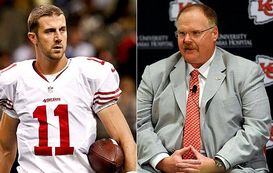 Alex Smith and Andy Reid look to start fresh in Kansas City.
Analysis: One of the most popular Week 1 plays according to Rood, the new-look Kansas City Chiefs attempt to commence the Andy Reid era on the right foot by taking down a Jacksonville squad in Week 1 that is a woeful 5-10-1 ATS at home over the last two seasons. Playing the Chiefs at the opening number of -2.5 will likely open the door for a middle, as the prevailing thought process is that this number will close no lower than Kansas City -3.5. Note: It's always worth exercising caution when looking to back a road favorite (20-21-0 ATS in 2012).
Cincinnati Bengals at Chicago Bears
Time: 1:00pm ET
MGM Open: Bears -3.5/45
MGM Current: Bears -3/42.5
Analysis: Want to know why the ear ly action favors the Cincinnati Bengals in Week 1? Maybe it has something to do with the fact that quarterback Andy Dalton is a money-printing 11-3-2 ATS on the road since landing in Cincinnati back in 2011. And it's not as if escaping Soldier Field with a victory is all that daunting of a task, considering the Bears have failed to cover the number in four of their last five home games. Take note that no Week 1 over/under has seen more movement at MGM Mirage properties than this one, with the total already dropping 2.5 points since hitting the board.
Miami Dolphins at Cleveland Browns
Time: 1:00pm ET
MGM Open: PK/39.5
MGM Current: PK/41
Analysis: Two franchises expected to take a step forward in 2013 go head-to-head during the first wave of Week 1's action, as a Dolphins team that went 3-5 ATS on the road in 2012 heads to Cleveland to butt heads with a Browns squad that posted a 5-3 ATS mark at home last year. Take note that since the Browns returned to Cleveland in 1999, the organization is 4-1 straight-up against Miami, with a resume that features an unblemished 3-0 mark at home.
Seattle Seahawks at Carolina Panthers
Time: 1:00pm ET
MGM Open: Seahawks -3.5 (even)/45.5
MGM Current: Seahawks -3/45.5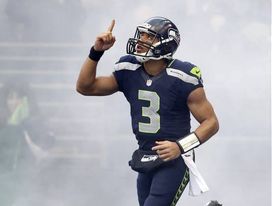 Russell Wilson and the Seahawks should be a popular public play in Week 1.
Analysis: Ah, Seattle, the team that captivated a nation in 2012 with their impossible-to-dislike underdog quarterback, Skittles pounding running back, competition preaching head coach and ultra-nasty defense. The trendiest Super Bowl pick of the preseason, the Seahawks open their 2013 campaign as road favorites against a live Carolina team that is getting little respect from the public in the hours approaching kickoff. Be advised of two notes here: First, the Seahawks are just 10-13-1 ATS on the road under Pete Carroll and second, that our good friend Todd Fuhrman of Don Best Sports advised backing Carolina on Friday night at the LVH SuperContest Handicapping Seminar if the line reaches Panthers +3.5.
Minnesota Vikings at Detroit Lions
Time: 1:00pm ET
MGM Open: Lions -3 (-120)/47
MGM Current: Lions -4/47
Analysis: What does Adrian Peterson have planned for an encore? Can the Lions rebound from last season's disastrous 4-12 campaign? Those are just two of the questions surrounding this NFC North rivalry that has seen the Vikings emerge victorious in seven of the last ten meetings (2-0 SU and ATS vs. Detroit in 2012). But despite the fact that Minnesota was a 10-win playoff team last year, the Lions are taking the early money, as this line has been bet off the key number of 3 and pushed as high as Detroit -4.5.
Oakland Raiders at Indianapolis Colts
Time: 1:00pm ET
MGM Open: Colts -7/49
MGM Current: Colts -8/48
Analysis: Credit a miserable performance on behalf of the Oakland offense this past Friday night for triggering the recent influx of Colts money that pushed this line as high as Indy -9 at some shops around Las Vegas. The Raiders went just 3-5 ATS on the road last season, are completely devoid of any semblance of offensive firepower and head to Indianapolis to play a Colts team that went 6-2 ATS at home in 2012. As we mentioned with Pittsburgh above, expect Indianapolis to function as a popular Week 1 teaser option.
Arizona Cardinals at St. Louis Rams
Time: 4:25pm ET
MGM Open: Rams -6.5/40
MGM Current: Rams -5.5/41
Analysis: Surprisingly, it was the Rams, not the 49ers or Seahawks, who owned the best divisional record amongst NFC West participants last season (4-1-1 SU, 6-0 ATS). But that hasn't stopped the support for new head coach Bruce Arians, veteran quarterback Carson Palmer and an Arizona Cardinals team that has gone from +6.5 to +5.5 for their Week 1 showdown at St. Louis. The bettors don't care that Arizona went 1-7 straight-up on the road last season. They like what Arians brings to the table and feel there's plenty of value backing the road dog in this one.
Green Bay Packers at San Francisco 49ers
Time: 4:25pm ET
MGM Open: 49ers -5.5/50.5
MGM Current: 49ers -4/49.5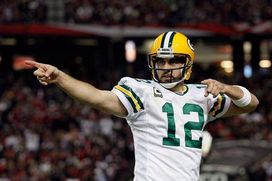 Rodgers and the Pack look for redemption in San Francisco.
Analysis: San Francisco laid the wood to Aaron Rodgers and the Packers in two meetings last season that saw the 49ers win by a combined score of 75-53. In addition, the NFC favorite to reach the Super Bowl has gone a lights out 20-10-2 (.667) ATS overall and 11-4-1 (.733) ATS at home in the two years since Jim Harbaugh was installed as the organization's head coach. But all of those fancy numbers have meant little to the early bettors who have come out firing on Green Bay, driving the number from +5.5 to +4, which can likely be attributed to a combination of the Michael Crabtree injury and the fact that Green Bay spent the offseason learning how to defend the read-option offense.
New York Giants at Dallas Cowboys
Time: 8:30pm ET
MGM Open: Cowboys -3 (even)/49
MGM Current: Cowboys -3/49
Analysis: The Cowboys haven't defeated the Giants in Dallas since 2008 and are a miserable 3-7 straight-up against Big Blue over the last five seasons. But if you want a real angle to play in the league's first Sunday night showdown of the season, take a look at the over (49 points). The last 14 regular season meetings between New York and Dallas has produced an average total score of 54.8 points per game, with nine of those meetings eclipsing the 50-point mark.
MONDAY, SEPTEMBER 9
Philadelphia Eagles at Washington Redskins
Time: 7:00pm ET
MGM Open: Redskins -4.5/51
MGM Current: Redskins -4/50
Analysis: Between Robert Griffin III's knee and Chip Kelly's new offense, it's not easy trying to get a read on the first half of Week 1's Monday night doubleheader. The Redskins may have gone 5-3 against the number at home in 2012, but the early money is backing the Eagles in this spot, as you can currently find this game as low as Washington -3.5 at some shops in Las Vegas.
Houston Texans at San Diego Chargers
Time: 10:15pm ET
MGM Open: Texans -3/46
MGM Current: Texans -3.5/45
Analysis: Houston went 4-0 both straight-up and against the spread during the month of September in 2012, have already taken the early money and will continue to do so right up until kickoff of their Week 1 opener against a San Diego team with a highly questionable offensive line. During Friday night's handicapping seminar at the LVH, both Todd Fuhrman and Teddy Covers predicted this line could get as high as Houston -6 by kickoff. Plan accordingly.
Hit me up on Twitter: @JoeFortenbaugh