October 16, 2014 -
Joe Fortenbaugh
NFP power rankings
While a 4-1 record in the National Football League is certainly nothing to scoff at, I think the main reason so many of us were hesitant to back the Dallas Cowboys as a legitimate Super Bowl contender had to do with the fact that the franchise lacked a marquee victory through the first five weeks of the 2014 season.
But all of that changed last Sunday in Seattle.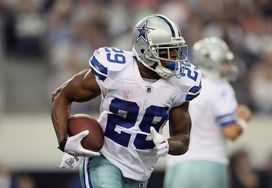 DeMarco Murray and the Cowboys sent shockwaves through the National Football League last Sunday.
The defending champion Seahawks entered Week 6 having won 17 of their last 18 regular season home games at CenturyLink Field while outscoring the opposition by an average of 16.5 points per contest. But a visit from the Cowboys in Week 6 put a dent in that nearly flawless record, as DeMarco Murray and company flew back to Texas with a 30-23 win and a 5-1 record.
That marquee victory over Seattle moved the Cowboys—who entered the season at 75/1 to win the Super Bowl—from 20/1 to 12/1 to hoist the Vince Lombardi Trophy this past week at the Westgate Las Vegas SuperBook.
It also sent Jerry Jones' crew skyrocketing up toward the top of our power rankings.
NFP power rankings
1. Denver Broncos [91.5]
Record: 4-1 (Won 31-17 at NY Jets)
Previous ranking: 91.0 (2)
2. Dallas Cowboys [90.5]
Record: 5-1 (Won 30-23 at Seattle)
Previous ranking: 86.5 (T11)
T3. San Diego Chargers [90.0]
Record: 5-1 (Won 31-28 at Oakland)
Previous ranking: 90.0 (3)
T3. Seattle Seahawks [90.0]
Record: 3-2 (Lost 30-23 vs. Dallas)
Previous ranking: 93.0 (1)
5. Philadelphia Eagles [89.5]
Record: 5-1 (Won 27-0 vs. NY Giants)
Previous ranking: 89.0 (5)
6. San Francisco 49ers [89.0]
Record: 4-2 (Won 31-17 at St. Louis)
Previous ranking: 88.5 (T6)
7. Indianapolis Colts [88.5]
Record: 4-2 (Won 33-28 at Houston)
Previous ranking: 88.5 (T6)
8. Green Bay Packers [88.0]
Record: 4-2 (Won 27-24 at Miami)
Previous ranking: 88.0 (8)
9. New England Patriots [87.5]
Record: 4-2 (Won 37-22 at Buffalo)
Previous ranking: 87.5 (9)
T10. Cincinnati Bengals [87.0]
Record: 3-1-1 (Tie 37-37 vs. Carolina)
Previous ranking: 89.5 (4)
T10. Arizona Cardinals [87.0]
Record: 4-1 (Won 30-20 vs. Washington)
Previous ranking: 87.0 (10)
T12. Baltimore Ravens [86.5]
Record: 4-2 (Won 48-17 at Tampa Bay)
Previous ranking: 86.0 (T13)
T12. Carolina Panthers [86.5]
Record: 3-2-1 (Tie 37-37 at Cincinnati)
Previous ranking: 86.0 (T13)
14. Chicago Bears [86.0]
Record: 3-3 (Won 27-13 at Atlanta)
Previous ranking: 85.5 (15)
T15. New Orleans Saints [85.0]
Record: 2-3 (Bye)
Previous ranking: 85.0 (T16)
T15. Kansas City Chiefs [85.0]
Record: 2-3 (Bye)
Previous ranking: 85.0 (T16)
T15. Detroit Lions [85.0]
Record: 4-2 (Won 17-3 at Minnesota)
Previous ranking: 85.0 (T16)
18. New York Giants [84.5]
Record: 3-3 (Lost 27-0 vs. Philadelphia)
Previous ranking: 86.5 (T11)
T19. Cleveland Browns [84.0]
Record: 3-2 (Won 31-10 vs. Pittsburgh)
Previous ranking: 83.5 (T22)
T19. Pittsburgh Steelers [84.0]
Record: 3-3 (Lost 31-10 at Cleveland)
Previous ranking: 84.5 (T19)
T21. Atlanta Falcons [83.5]
Record: 2-4 (Lost 27-13 vs. Chicago)
Previous ranking: 84.5 (T19)
T21. Houston Texans [83.5]
Record: 3-3 (Lost 33-28 vs. Indianapolis)
Previous ranking: 84.0 (21)
23. Buffalo Bills [83.0]
Record: 3-3 (Lost 37-22 vs. New England)
Previous ranking: 83.5 (T22)
24. Miami Dolphins [82.5]
Record: 2-3 (Lost 27-24 vs. Green Bay)
Previous ranking: 82.5 (24)
25. St. Louis Rams [81.5]
Record: 1-4 (Lost 31-17 vs. San Francisco)
Previous ranking: 81.5 (T25)
26. Washington Redskins [81.0]
Record: 1-5 (Lost 30-20 at Arizona)
Previous ranking: 81.0 (T27)
T27. New York Jets [80.5]
Record: 1-5 (Lost 31-17 vs. Denver)
Previous ranking: 80.5 (29)
T27. Minnesota Vikings [80.5]
Record: 2-4 (Lost 17-3 vs. Detroit)
Previous ranking: 81.5 (T25)
29. Tennessee Titans [80.0]
Record: 2-4 (Won 16-14 vs. Jacksonville)
Previous ranking: 80.0 (30)
30. Tampa Bay Buccaneers [79.0]
Record: 1-5 (Lost 48-17 vs. Baltimore)
Previous ranking: 81.0 (T27)
31. Oakland Raiders [78.5]
Record: 0-5 (Lost 31-28 vs. San Diego)
Previous ranking: 78.0 (32)
32. Jacksonville Jaguars [78.0]
Record: 0-6 (Lost 16-14 at Tennessee)
Previous ranking: 78.5 (31)
Hit me up on Twitter: @JoeFortenbaugh