December 17, 2013 -
Joe Fortenbaugh
NFP power rankings
Much has been made about the defensive transformation that has taken place in New Orleans this season under new coordinator Rob Ryan. After a historically dreadful 2012 campaign that saw the Saints finish dead last in total defense (440.1 yds/gm) and 31st in scoring (28.4 pts/gm), Ryan's new-look unit currently stands at fifth in the league in both categories through 14 games.
But this defense still has its fair share of problems, which bubble to the surface every time the Saints board a plane for a rival city. In seven home games this season, New Orleans is 7-0 while surrendering just 267.4 total yards and 15.4 points per game with both a positive turnover differential (+5) and sack differential (+10).
However, those numbers perform a drastic 180 when the Saints hit the road, where the team is 3-4 while surrendering an average of 358.1 yards and 23.1 points per game with a turnover differential of -5 and a sack differential of +3.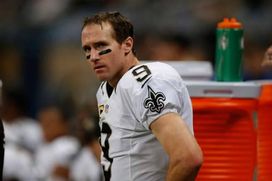 Brees threw two early interceptions on Sunday at St. Louis, putting New Orleans in a hole they couldn't dig out of.
Part of the problem is that unlike in Carolina and Seattle, this defense isn't capable of covering up a bad day from the franchise's offense. When quarterback Drew Brees posts a QB rating of 87.0 or lower, New Orleans is 1-4 this season. Carolina's Cam Newton has dipped below the 87.0 mark seven times this year, but the Panthers have gone 4-3 in those games. The same can be said about the Seahawks, who are 3-2 when signal-caller Russell Wilson records a rating of 87.0 or lower.
After a 5-0 start to open the season, the Saints have gone just 5-4 over their last nine games, with defeats in four of the organization's last five road contests. New Orleans hits the road for the final time this Sunday for a rematch with the Carolina Panthers that will play a major role in shaping the NFC playoff landscape. A win keeps New Orleans at home until a possible NFC Championship showdown at Seattle. A loss sends the Saints to the airport for a wild card matchup while significantly decreasing the team's Super Bowl chances.
The numbers in brackets indicate each team's Power Ranking, which is based on a scale of 1-100. These numbers can be used as a baseline to determine the point spread between any two teams on the list. Keep in mind that these numbers do not account for home field advantage, situational analysis (extra rest, back-to-back road games, divisional rivalries, etc), injuries, weather or public perception. They are merely to be used as a baseline for your initial analysis.
NFP POWER RANKINGS
1. Seattle Seahawks [90.5]
Record: 12-2 (Won 23-0 at NY Giants)
Previous ranking: 90.0 (1)
2. Denver Broncos [89.5]
Record: 11-3 (Lost 27-20 vs. San Diego)
Previous ranking: 89.5 (2)
T3. Carolina Panthers [88.5]
Record: 10-4 (Won 30-20 vs. NY Jets)
Previous ranking: 88.5 (4)
T3. San Francisco 49ers [88.5]
Record: 10-4 (Won 33-14 at Tampa Bay)
Previous ranking: 88.0 (5)
5. New Orleans Saints [88.0]
Record: 10-4 (Lost 27-16 at St. Louis)
Previous ranking: 89.0 (3)
6. New England Patriots [87.0]
Record: 10-4 (Lost 24-20 at Miami)
Previous ranking: 87.5 (6)
7. Cincinnati Bengals [86.5]
Record: 9-5 (Lost 30-20 at Pittsburgh)
Previous ranking: 87.0 (7)
8. Kansas City Chiefs [86.0]
Record: 11-3 (Won 56-31 at Oakland)
Previous ranking: 85.0 (8)
9. Baltimore Ravens [84.5]
Record: 8-6 (Won 18-16 at Detroit)
Previous ranking: 83.5 (T10)
10. Philadelphia Eagles [84.0]
Record: 8-6 (Lost 48-30 at Minnesota)
Previous ranking: 84.5 (9)
11. Arizona Cardinals [83.5]
Record: 9-5 (Won 37-34 at Tennessee)
Previous ranking: 83.5 (T10)
T12. Miami Dolphins [83.0]
Record: 8-6 (Won 24-20 vs. New England)
Previous ranking: 82.0 (T14)
T12. Indianapolis Colts [83.0]
Record: 9-5 (Won 25-3 vs. Houston)
Previous ranking: 83.0 (12)
14. San Diego Chargers [82.0]
Record: 7-7 (Won 27-20 at Denver)
Previous ranking: 81.5 (16)
T15. Chicago Bears [81.5]
Record: 8-6 (Won 38-31 at Cleveland)
Previous ranking: 81.0 (T17)
T15. Pittsburgh Steelers [81.5]
Record: 6-8 (Won 30-20 vs. Cincinnati)
Previous ranking: 81.0 (T17)
T17. Detroit Lions [81.0]
Record: 7-7 (Lost 18-16 vs. Baltimore)
Previous ranking: 82.5 (13)
T17. Dallas Cowboys [81.0]
Record: 7-7 (Lost 37-36 vs. Green Bay)
Previous ranking: 82.0 (T14)
19. Green Bay Packers [80.5]
Record: 7-6-1 (Won 37-36 at Dallas)
Previous ranking: 80.0 (T19)
20. St. Louis Rams [80.0]
Record: 6-8 (Won 27-16 vs. New Orleans)
Previous ranking: 79.0 (22)
21. Tampa Bay Buccaneers [79.5]
Record: 4-10 (Lost 33-14 vs. San Francisco)
Previous ranking: 80.0 (T19)
T22. New York Jets [78.5]
Record: 6-8 (Lost 30-20 at Carolina)
Previous ranking: 78.5 (23)
T22. Minnesota Vikings [78.5]
Record: 4-9-1 (Won 48-30 vs. Philadelphia)
Previous ranking: 78.0 (T24)
T24. Tennessee Titans [78.0]
Record: 5-9 (Lost 37-34 vs. Arizona)
Previous ranking: 78.0 (T24)
T24. New York Giants [78.0]
Record: 5-9 (Lost 23-0 vs. Seattle)
Previous ranking: 79.5 (21)
T24. Atlanta Falcons [78.0]
Record: 4-10 (Won 27-26 vs. Washington)
Previous ranking: 77.5 (T26)
27. Buffalo Bills [77.5]
Record: 5-9 (Won 27-20 at Jacksonville)
Previous ranking: 77.0 (T28)
T28. Cleveland Browns [77.0]
Record: 4-10 (Lost 38-31 vs. Chicago)
Previous ranking: 77.5 (T26)
T28. Washington Redskins [77.0]
Record: 3-11 (Lost 27-26 at Atlanta)
Previous ranking: 76.5 (31)
T30. Jacksonville Jaguars [76.5]
Record: 4-10 (Lost 27-20 vs. Buffalo)
Previous ranking: 77.0 (T28)
T30. Oakland Raiders [76.5]
Record: 4-10 (Lost 56-31 vs. Kansas City)
Previous ranking: 77.0 (T28)
32. Houston Texans [75.5]
Record: 2-12 (Lost 25-3 at Indianapolis)
Previous ranking: 75.5 (32)
Hit me up on Twitter: @JoeFortenbaugh