October 23, 2014 -
Joe Fortenbaugh
NFP power rankings
In impressively stealth fashion, the Baltimore Ravens rebounded from both the loss of running back Ray Rice for the entire 2014 campaign and a 23-16 Week 1 home defeat to the Cincinnati Bengals to rip off five victories over the franchise's last six outings to claim the top spot in the AFC North.
Baltimore's rise up the rankings can be attributed to a combination of the Joe Flacco-Steve Smith connection and a lockdown defense that is currently permitting a league-best 14.9 points per game in 2014. Through seven contests, Flacco is on pace to set career marks in both passing yards (4,237) and touchdowns (32) while Smith's current numbers (38-640-4) put the former Carolina Panther on course for his best season since 2005.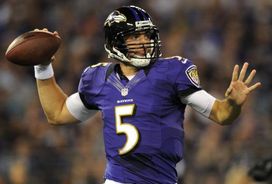 US PRESSWIREFlacco and the Ravens have quietly assumed control of the AFC North.
Back-to-back wins over the next two weeks against division rivals Cincinnati and Pittsburgh would put the Ravens at 7-2 and in firm command of the AFC North heading into a Week 10 home date with the Tennessee Titans, which precedes Baltimore's 2014 bye week.
And to think, in the wake of the Ray Rice scandal at the beginning of the season combined with the alleged rise of the Cincinnati Bengals, many of us were dismissing this club's chances in 2014.
The numbers in brackets indicate each team's Power Ranking, which is based on a scale of 60-100. These numbers can be used as a baseline to determine the point spread between any two teams on the list. Keep in mind that these numbers do not account for home field advantage, situational analysis (extra rest, back-to-back road games, divisional rivalries, etc), injuries, weather or public perception. They are merely to be used as a baseline for your initial analysis.
NFP power rankings
1. Denver Broncos [92.0]
Record: 5-1 (Won 42-17 vs. San Francisco)
Previous ranking: 91.5 (1)
2. Dallas Cowboys [90.5]
Record: 6-1 (Won 31-21 vs. NY Giants)
Previous ranking: 90.5 (2)
3. Indianapolis Colts [90.0]
Record: 5-2 (Won 27-0 vs. Cincinnati)
Previous ranking: 88.5 (7)
4. Philadelphia Eagles [89.5]
Record: 5-1 (Bye)
Previous ranking: 89.5 (5)
T5. Arizona Cardinals [89.0]
Record: 5-1 (Won 24-13 at Oakland)
Previous ranking: 87.0 (T10)
T5. San Diego Chargers [89.0]
Record: 5-2 (Lost 23-20 vs. Kansas City)
Previous ranking: 90.0 (T3)
7. Green Bay Packers [88.5]
Record: 5-2 (Won 38-17 vs. Carolina)
Previous ranking: 88.0 (8)
8. Baltimore Ravens [88.0]
Record: 5-2 (Won 29-7 vs. Atlanta)
Previous ranking: 86.5 (T12)
T9. New England Patriots [87.5]
Record: 5-2 (Won 27-25 vs. NY Jets)
Previous ranking: 87.5 (9)
T9. Seattle Seahawks [87.5]
Record: 3-3 (Lost 28-26 at St. Louis)
Previous ranking: 90.0 (T3)
11. San Francisco 49ers [87.0]
Record: 4-3 (Lost 42-17 at Denver)
Previous ranking: 89.0 (6)
T12. Detroit Lions [86.0]
Record: 5-2 (Won 24-23 vs. New Orleans)
Previous ranking: 85.0 (T15)
T12. Cincinnati Bengals [86.0]
Record: 3-2-1 (Lost 27-0 at Indianapolis)
Previous ranking: 87.0 (T10)
T14. Kansas City Chiefs [85.5]
Record: 3-3 (Won 23-20 at San Diego)
Previous ranking: 85.0 (T15)
T14. Carolina Panthers [85.5]
Record: 3-3-1 (Lost 38-17 at Green Bay)
Previous ranking: 86.5 (T12)
T16. Miami Dolphins [85.0]
Record: 3-3 (Won 27-14 at Chicago)
Previous ranking: 82.5 (24)
T16. Chicago Bears [85.0]
Record: 3-4 (Lost 27-14 vs. Miami)
Previous ranking: 86.0 (14)
18. Pittsburgh Steelers [84.0]
Record: 4-3 (Won 30-23 vs. Houston)
Previous ranking: 84.0 (T19)
T19. New Orleans Saints [83.5]
Record: 2-4 (Lost 24-23 at Detroit)
Previous ranking: 85.0 (T15)
T19. New York Giants [83.5]
Record: 3-4 (Lost 31-21 at Dallas)
Previous ranking: 84.5 (18)
T21. Houston Texans [83.0]
Record: 3-4 (Lost 30-23 at Pittsburgh)
Previous ranking: 83.5 (T21)
T21. Buffalo Bills [83.0]
Record: 4-3 (Won 17-16 vs. Minnesota)
Previous ranking: 83.0 (23)
23. St. Louis Rams [82.5]
Record: 2-4 (Won 28-26 vs. Seattle)
Previous ranking: 81.5 (25)
24. Atlanta Falcons [82.0]
Record: 2-5 (Lost 29-7 at Baltimore)
Previous ranking: 83.5 (T21)
25. Washington Redskins [81.5]
Record: 2-5 (Won 19-17 vs. Tennessee)
Previous ranking: 81.0 (26)
26. Cleveland Browns [81.0]
Record: 3-3 (Lost 24-6 at Jacksonville)
Previous ranking: 84.0 (T19)
T27. New York Jets [80.5]
Record: 1-6 (Lost 27-25 at New England)
Previous ranking: 80.5 (T27)
T27. Minnesota Vikings [80.5]
Record: 2-5 (Lost 17-16 at Buffalo)
Previous ranking: 80.5 (T27)
29. Tennessee Titans [80.0]
Record: 2-5 (Lost 19-17 at Washington)
Previous ranking: 80.0 (29)
30. Tampa Bay Buccaneers [79.0]
Record: 1-5 (Bye)
Previous ranking: 79.0 (30)
31. Jacksonville Jaguars [78.5]
Record: 1-6 (Won 24-6 vs. Cleveland)
Previous ranking: 78.0 (32)
32. Oakland Raiders [78.0]
Record: 0-6 (Lost 24-13 vs. Arizona)
Previous ranking: 78.5 (31)
Hit me up on Twitter: @JoeFortenbaugh