August 08, 2013 -
Joe Fortenbaugh
NFP preseason power rankings
With one preseason game and 1,492 ACL injuries in the books, it's time to take a look at the National Football Post's first Power Rankings list of the season.
The numbers in brackets indicate each team's Power Rating, which is based on a scale of 1-100. These numbers can be used as a baseline to determine the point spread between any two teams on the list. Keep in mind that these numbers do not account for home field advantage, situational analysis (extra rest, back-to-back road games, divisional rivalries, etc), injuries, weather or public perception. They are merely to be used as a baseline for your initial analysis.
2013 NFP PRESEASON POWER RANKINGS
1. Denver Broncos [89.0]: A spot in February's Super Bowl boils down to whether or not Peyton Manning and John Fox can exorcise their playoff demons, as the 14-year veteran quarterback boasts just a 9-11 career postseason record while the head coach's ultra-conservative game plan in January's Divisional Round loss to Baltimore bordered on the absurd. Make the necessary corrections in 2013 and the Broncos are the team to beat in the AFC.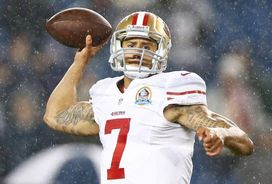 Kaepernick will be tested early without the help of wide receiver Michael Crabtree.
2. San Francisco 49ers [88.5]: With wide receiver Michael Crabtree down for the count until November, we'll find out just how good quarterback Colin Kaepernick truly is early in the season. Arguably the most well balanced football team in the league, you'd be hard-pressed to find a roster better coached than this one.
3. Seattle Seahawks [88.0]: The most significant home field advantage in the league, a quarterback who will only get better in Year 2, a top-flight rushing attack and a defense that ranked fourth in the league last season are just a few of the reasons why, despite many people's predicted regression, we believe Seattle will be right in the thick of it late in the year. Head coach Pete Carroll must improve on the 8-16 road mark he has amassed since joining the Seahawks in 2010.
4. Green Bay Packers [87.0]: The loss of starting left tackle Bryan Bulaga for the season stings even worse when you consider the fact that no quarterback in the league has been sacked more times since 2009 than Aaron Rodgers (168). But the upgrades made to the team's rushing attack thanks to the April acquisition of draft picks Eddie Lacy and Johnathan Franklin should help keep opposing defenses off balance, which is something we haven't seen in Green Bay in either of the last two years.
5. Atlanta Falcons [86.5]: Kicker Matt Bryant booted the monkey from head coach Mike Smith and quarterback Matt Ryan's respective backs in January with a 49-yarder as time expired against Seattle to give Atlanta its first playoff win since 2004. But the pass rush and secondary are still concerns that will be tested as early as Week 1 when the Falcons head to New Orleans for a divisional showdown with the high-flying Saints.
6. Houston Texans [86.0]: The AFC is as wide open in 2013 as it has been in recent memory, giving Houston its best shot at a Super Bowl berth in franchise history. But the organization will need to take its game to a new level and avoid another late-season meltdown in order to make that possibility a reality. Despite a roster that boasts Pro Bowlers Andre Johnson and Arian Foster, the defense will once again set the tone for the Texans.
7. New England Patriots [85.5]: The losses of pass-catchers Wes Welker and Aaron Hernandez, the absence of a vertical threat on the outside and the injury concerns surrounding Rob Gronkowski are all reasons to dismiss the Patriots in 2013. As is the fact that the defense ranked 25th in the league in 2012. But with Brady under center and Belichick on the sidelines, New England will once again hover near the top of the AFC standings during the regular season.
8. Pittsburgh Steelers [84.0]: Stop traffic, the Steelers ranked first in the league in total defense last season, which is just one of the reasons why you should take a good, long look at Pittsburgh's current 18/1 Super Bowl odds. At that price, backers could find themselves with a great hedging opportunity come the postseason.
9. New Orleans Saints [84.0]: It would take one hell of an effort out of Rob Ryan for this defense to play worse then it did in 2012. Improvements on that side of the football coupled with the return of head coach Sean Payton should see the Who Dats return to form this season. Just like we mentioned with Pittsburgh, the 18/1 price on New Orleans is another investment worth contemplating.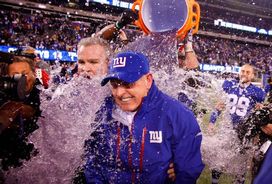 Nobody is talking about two-time Super Bowl winner Tom Coughlin and the New York Giants.
10. New York Giants [83.5]: Nobody's talking about them and that's exactly how head coach Tom Coughlin and company like it. With Philadelphia in early turmoil, Robert Griffin III coming back from a serious knee injury and Dallas being, well, Dallas, the Giants have a good shot to reclaim the NFC East and qualify for the playoffs, which is where this franchise does its finest work.
11. Cincinnati Bengals [83.0]: It all comes down to third-year quarterback Andy Dalton. Cincinnati's signal-caller has the offensive arsenal and defensive support to guide the Bengals to their first playoff win since 1990, but has to take the next step in his development in order for the Bengals to maximize their potential. This is another Super Bowl futures bet worth considering (20/1).
12. Baltimore Ravens [82.5]: The concern of many is over Baltimore's offseason mass exodus of Super Bowl talent, but we're more focused on the fact that the five Super Bowl winners prior to the Ravens came back the following season to post a combined 0-3 record in the playoffs, with two teams (Giants in 2012, Steelers in 2009) failing to qualify for the postseason altogether. Players don't work as hard during the offseason following a Super Bowl win, complacency sets in and before you know it, somebody else is hoisting your trophy. The Ravens will be tough in 2013, but won't be a serious threat to repeat at any point.
13. Washington Redskins [82.5]: What's more disconcerting: RG3's knee injury or the fact that NFL teams spent the offseason learning how to defend the read-option? The answer is both, which is why the 'Skins may not take as big a leap forward this season as many people think.
14. Dallas Cowboys [82.0]: The roster is loaded with talent, the coaching staff was upgraded thanks to the addition of defensive coordinator Monte Kiffin and the franchise quarterback is content with his $100 million offseason payday. Still, it's tough to give an organization with just one playoff win since 1996 and a penchant for choking in the big spot much respect prior to the start of the season. Dallas will have to prove it week in and week out before anybody jumps on the train.
15. Indianapolis Colts [81.5]: Too low? Well then consider the fact that last year Indianapolis became the first team in NFL hi story to win 11 or more games during the regular season while being outscored by its opposition. In addition, the Colts posted negative numbers in both the sack differential (-9) and turnover differential (-12) departments last year. That's unheard of and, in our opinion, signals that a regression is on the horizon for 2013.
16. Chicago Bears [81.0]: The Bears will make the switch from a defensive-minded football team to an offensive one in 2013 under new head coach Marc Trestman, who will oversee a quarterback in Jay Cutler that is entering the final year of his contract. The quicker the offense comes together, the quicker the Bears rise up the rankings.
17. Detroit Lions [81.0]: Was the team's 2011 playoff run the anomaly or was it last season's 4-12 clunker? We side with the latter and believe that the Lions' front four will pave the way for a return to the happy side of a .500 record in 2013.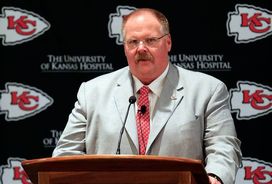 Kansas City will rebound in a hurry under new head coach Andy Reid.
18. Kansas City Chiefs [80.5]: The switch at quarterback from Matt Cassel to Alex Smith should cut down Kansas City's sack and turnover numbers, while the transition from Romeo Crennel to Andy Reid gives the Chiefs a much-improved position from a tactical standpoint. Look at the schedule and keep in mind that this team sent six players to the Pro Bowl last season. Those are just a few of the reasons why we're backing the OVER (7.0) on Kansas City's season win total this year.
19. Miami Dolphins [80.0]: The Dolphins feature a much improved roster thanks to an offseason spending spree that has given second-year quarterback Ryan Tannehill what he needs to take a big step forward. But how often do offseason spending sprees result in big-time success? The answer is rarely, which is why we are hesitant about ranking the Dolphins any higher than 19th at the current moment.
20. St. Louis Rams [80.0]: Could be on the rise in a hurry under head coach Jeff Fisher, who turned the league's 22nd ranked defense into the league's 14th ranked defense in just one year, while allowing 3.6 fewer points per game in 2012 then they did in 2011. Explosive rookie wide receivers Tavon Austin and Stedman Bailey join a roster that went 4-1-1 against one of the toughest divisions in football last season.
21. Carolina Panthers [79.5]: It's the Panthers, not the Buccaneers, who should be considered the dark horse to win the NFC South this season, after the team won five of their final six games in 2012 when they had every reason to throw in the towel. Finally healthy and with dual-threat quarterback Cam Newton entering his third campaign, Carolina has the potential to turn some heads early in the season.
22. Tampa Bay Buccaneers [79.0]: The offseason acquisitions of cornerback Darrelle Revis and safety Dashon Goldson will improve the league's worst pass defense from a year ago, but how much confidence can you have in a team that has little confidence in its staring quarterback?
23. Philadelphia Eagles [79.0]: Between the rash of ACL injuries and Riley Cooper's insensitive and asinine comments, the Chip Kelly era in Philadelphia is off to a less then glamorous start. This team could win 11 games or they could flame out and win only four. Time will tell.
24. San Diego Chargers [78.5]: Once the dominant force in the AFC West, the Chargers enter 2013 looking up at both Denver and Kansas City. San Diego's got problems along the offensive line, receiver position, running back position and in the secondary. You don't win a whole lot of games with that many holes.
25. Tennessee Titans [78.5]: Could make an early move up the board thanks to an improved offensive line and secondary, but everything in Tennessee hinges on quarterback Jake Locker and his ability to improve on a career completion percentage of just 55.5%.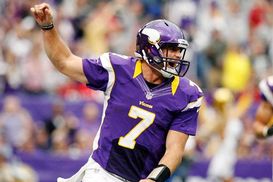 Is Ponder capable of taking some of the load off Adrian Peterson's shoulders?
26. Minnesota Vikings [78.5]: Ranks up there with Indianapolis as one of our top-2 teams headed for a regression in 2013. Adrian Peterson isn't running for another 2,000 yards this season, which means that quarterback Christian Ponder will have to elevate his game in order to keep the Vikings relevant. That's a tall task for a guy with 32 turnovers in just 27 career appearances. In addition, check out the quarterbacks Minnesota has to face this season. Brutal.
27. Cleveland Browns [77.0]: Finally headed in the right direction thanks to a solid offseason spent addressing the front seven, but still less talented than the other three teams in their division. It will take some more work for Cleveland to end their ten-year playoff drought, but this city's time is coming.
28. Arizona Cardinals [76.5]: Yes, Carson Palmer is an upgrade over everything else that Arizona has thrown under center over the last few years, but the guy will turn 34-years-old in December, completely flamed out in Oakland and is playing behind an offensive line that will likely be destroyed by San Francisco, Seattle and St. Louis. Still trying to figure out why so many people think this team is headed for a big turnaround in 2013.
29. Buffalo Bills [76.0]: We still like the 1-2 punch of C.J. Spiller and Fred Jackson, but that's pretty much where it ends. Hopefully, rookie quarterback E.J. Manuel flashes some potential this season so that Bills fans can get excited about the future.
30. New York Jets [76.0]: The quicker the Jets turn the keys over to rookie quarterback Geno Smith, the better. The team already knows what they have in Mark Sanchez, so the only reason to put him on the field would be to keep Smith healthy while the Jets sludge their way through the season.
31. Jacksonville Jaguars [75.5]: Gus Bradley is one hell of a defensive coordinator, but he's got his work cut out for him trying to turn around a franchise that has lost eight or more games in each of the last five seasons. A quarterback competition between Blaine Gabbert and Chad Henne will be determined by which player stinks less.
32. Oakland Raiders [75.0]: It's a rebuilding project. #JadeveonClowneyIn2014
Hit me up on Twitter: @JoeFortenbaugh