July 28, 2011 -
Barry Dorey
Nick Fairley and the Lions strike a deal
When NFL commissioner Roger Goodell announced that the Detroit Lions had selected Nick Fairley with the 13th pick in the 2011 draft, several analysts had the same reaction.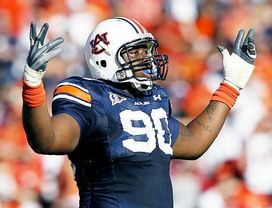 If Ndamukong Suh were Batman, then Nick Fairley (above) would be on monstrous Robin.
Good luck running on the Lions this season.
Not just because the 6-4, 291-pound Fairley is a force to be reckoned with on the inside, but because he'll be playing next to 2010 NFL defensive rookie of the year Ndamunkong Suh.
And now that the Lions and Fairley have reached an agreement on a four-year, $10 million contract (per ESPN), the two defensive tackles can begin the process of anchoring what could quite possibly be the nastiest defensive line in the league.
Hit me up on Twitter: @JoeFortenbaugh