August 03, 2011 -
Barry Dorey
Nick Fairley has surgery, will miss most of camp
Only a few days into training camp and the Detroit Lions are already without their first-round draft pick.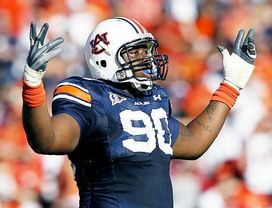 Just like that, Nick Fairley is on the shelf.
Defensive tackle Nick Fairley—who was selected 13th overall last April—underwent foot surgery Wednesday and is expected to miss most—if not all—of training camp, the team announced via their website.
Fairley and fellow defensive tackle Ndamukong Suh are expected to anchor one of the nastiest defensive lines in the league this season.
Should the rookie make it back in time for the Lions' Week 1 game against the Tampa Bay Buccaneers, running back LeGarrette Blount will be the first ball-carrier to get a crack at head coach Jim Schwartz's dynamic duo.
Hit me up on Twitter: @JoeFortenbaugh