August 18, 2011 -
Barry Dorey
Niners add another quarterback
The way we see it, there's a reason why teams like the New England Patriots, Green Bay Packers and New Orleans Saints haven't signed any quarterbacks over the past two weeks.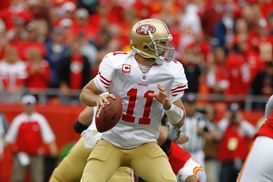 ICONHow long will Alex Smith be able to hang on to the starting job?
It's because they're happy with what they've already got on the roster.
Then there's a team like the San Francisco 49ers.
Not long after giving former Miami Dolphins signal-caller Daunte Culpepper the once-over, the 49ers reached an agreement on Wednesday with eight-year NFL veteran Josh McCown, per Matt Maiocco of CSN Bay Area.
After spending the 2002-2009 seasons with four different NFL teams, McCown played for the UFL's Hartford Colonials in 2010, where he threw for 1,468 yards and ten touchdowns.
While five-year veteran Alex Smith currently holds a slight edge in the race for the Week 1 starting gig, rookie Colin Kaepernick has been doing his best to lay claim to the job. However, having spent his college days playing against WAC competition, Kaepernick will probably need some more time before he's ready to successfully lead an NFL offense.
Hit me up on Twitter: @JoeFortenbaugh