April 02, 2013 -
Joe Fortenbaugh
Nnamdi's a Niner
It was less than two years ago that Oakland Raiders cornerback Nnamdi Asomugha was headed to the open market riding the leverage of three straight trips to the Pro Bowl. Asomugha eventually landed in Philadelphia on a lucrative five-year deal worth $60 million.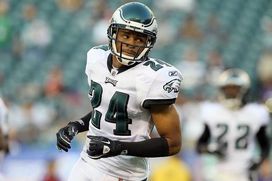 After two disappointing seasons in Philly, Asomugha is back in the Bay Area.
But things don't always work out as people hope and after two highly disappointing seasons in Philadelphia, the now 31-year-old cornerback found himself back in the free agent pool after the Eagles balked at the $15 million price tag that came with keeping Asomugha around for the 2013 campaign.
The situation looks both similar and different at the same time for Asomugha on Tuesday, as the ten-year veteran agreed to terms on a one-year deal worth up to $3 million with the San Francisco 49ers, per Adam Schefter of ESPN. Similar in that Asomugha is heading back to the Bay Area where he began his career, different in that he just went from the possibility of making $15 million in 2013 to a maximum of just $7 million (the Eagles still owe Asomugha $4 million).
The move had been rumored for a couple weeks, but both sides reached an official agreement on Tuesday. Asomugha joins the defending NFC champions who currently possess a depth chart with Carlos Rogers, Tarell Brown, Perrish Cox, Chris Culliver and now Asomugha at the cornerback position.
Much of the talk in Philadelphia during Asomugha's two-year stint was that the Eagles failed to take advantage of the cornerback's skill set by using him the right way in their defensive alignments. If that turns out to be true and San Francisco recognizes the issue, the 49ers may have just landed one of the best value deals of the 2013 offseason.
Hit me up on Twitter: @JoeFortenbaugh