March 16, 2012 -
Joe Fortenbaugh
No Manning, no worries
The Miami Dolphins found out Thursday that their organization was no longer in the running for the services of free agent quarterback Peyton Manning. And while some of the Miami faithful may be disappointed with the latest development in the future Hall of Famer's ongoing free agency saga, this certainly isn't the end of the road for the Dolphins.
In fact, when it comes to the long-term future of the franchise, the Dolphins may actually be better off without Manning.
Look, there's no denying that Manning—when healthy—is one of the greatest signal-callers the game has ever seen. If he can get back on the field in 2012 at close to 100%, the team fortunate enough to have acquired his autograph on the last page of a lengthy contract should immediately become a contender in their respective conference.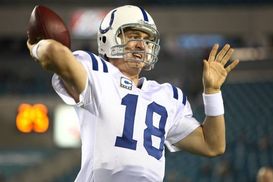 ICONAt 36-years-old, Peyton Manning only has so many seasons left.
Hell, Peyton may even have enough gas left in the tank for one last run at a second Super Bowl win.
And while the Dolphins—like any organization looking to take the next step—could certainly have benefited from a healthy Manning's skill set and expertise, this is a team that would be better served by acquiring a younger signal-caller whom new head coach Joe Philbin could develop and the front office could build around.
Manning turns 36-years-old on March 24 and in the 46 Super Bowls that have been played, only eight of the 92 quarterbacks (8.7%) who have appeared under center did so at the age of 36 or older. More specifically, the last ten Super Bowls have only seen two quarterbacks start the game at the age of 36 or older (Rich Gannon, Kurt Warner) and both of those guys came up short.
To complicate matters for the Fish is the fact that—had Miami figured out a way to seal the deal with Manning—the team no longer has a viable No. 1 wideout now that Pro Bowler Brandon Marshall has been shipped to Chicago in exchange for two third-round draft picks. What good is a 36-year-old quarterback with a limited and somewhat unreliable arsenal?
Matt Flynn may be a pricey option that brings some risk to the table in light of last season's Kevin Kolb debacle, but Philbin worked with Flynn as the offensive coordinator in Green Bay. If there's anyone fit to project the production of a relatively unknown like Flynn as a starter in the NFL, it would be Philbin.
Miami also has the option of looking to April's draft to land their quarterback of the future, but if the team has their eyes set on a guy like Texas A&M standout Ryan Tannehill, the Dolphins will likely need to trade up from the eight-spot in order to accomplish that mission.
It's a risky move that carries a hefty price tag as well, but new Dolphins offensive coordinator Mike Sherman coached Tannehill at Texas A&M and—just like how Philbin is well-suited to evaluate Flynn—Sherman would be the guy who could tell you everything you need to know about Tannehill.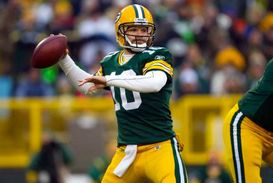 Flynn may be inexperienced, but Joe Philbin knows what he can do.
Philbin's biggest asset at the current moment is time. As a rookie head coach entering his first year with the Dolphins, he's not going to be expected to deliver Super Bowl-caliber results right off the bat. But had the team signed Manning, the pressure would already be mounting and the organization would likely expect immediate results.
Why push all your chips into the pot with Manning when you can aim younger and build out other components of the roster at a cheaper price with less risk?
As the offensive coordinator in Green Bay from 2007-2011, Philbin had a hand in developing a relatively unknown quarterback out of California who was considered by many to be the second-best player at the position in a draft class that saw Alex Smith go first overall to San Francisco.
And just two years after that unknown signal-caller took over as the Packers starting quarterback, Aaron Rodgers won his first Super Bowl.
The bottom line is that more than anything else, winning is what matters in the NFL. But unlike Mike Shanahan in Washington and Rex Ryan in New York, Philbin has the luxury of having time on his side.
Time being the operative word, because that's something Peyton Manning is short on.
Hit me up on Twitter: @JoeFortenbaugh