July 26, 2011 -
Barry Dorey
Noel Devine lands with the Birds
As a true freshman at West Virginia University in 2007, running back Noel Devine burst onto the national scene with a five-carry, 136-yard performance against the Maryland Terrapins. Roughly two months later, the 5-8 speedster from Fort Myers, Florida rushed for 118 yards on only 11 carries. Two weeks after that, Devine amassed 108 yards on just 13 attempts.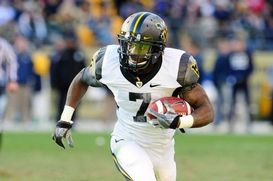 ICONNoel Devine is headed to Philadelphia.
The point we're trying to make is that for a few years, Devine was one of the most exciting college football players in the country.
Sadly, injuries slowed him down a bit during his senior season, but the good news is that Devine will have a chance to burst onto the scene all over again after signing a free agent contract with the Philadelphia Eagles on Tuesday, according to the team.
Devine will be competing with fellow rookie Dion Lewis (Pittsburgh, fifth round) and Eldra Buckley for a roster spot.
Will Devine make the Week 1 roster? Let us know your opinion in the NFP Forums!
Hit me up on Twitter: @JoeFortenbaugh