March 21, 2012 -
Joe Fortenbaugh
Now we'll see what Sanchez is made of
The NFL sector of the internet underwent a Chernobyl-like meltdown Wednesday afternoon as two of the most widely discussed league topics converged in near-simultaneous breaking news stories.
The first "Bountygate" punishments were handed down at roughly the same time it was announced that Tim Tebow had been traded to the New York Jets, causing twitter to go from a leisurely day at the beach to I-95 with no cops in sight.
Dogs and cats living together...mass hysteria!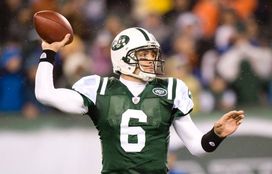 ICONMark Sanchez has gotten too comfortable in New York, which should change now that Tim Tebow has arrived.
It's no secret that I've been critical of the Jets and, more specifically, quarterback Mark Sanchez over the last year. But I believe the team's trade with Denver to bring in the uber-popular Tebow is a great move.
And not just for the New York front office, but for Sanchez as well.
Sanchez appeared in back-to-back AFC Championship games in 2010 and 2011 on the strength of a great supporting cast to begin his career in New York. The sun was shining and optimism was at an all-time high following the Brett Favre disaster.
Sanchez was the toast of the town. He was dating super models. He was ready to take over the league.
But the former USC standout took a step back last season and has still yet to finish a campaign having completed more than 57% of his passes. The locker room came apart, Sanchez failed to step up late in the season and the team missed the playoffs.
And after three years under center, the former top-five draft pick has now started to face questions as to whether or not he is capable of succeeding in the role of NFL franchise quarterback.
The bottom line is that Sanchez had gotten too comfortable in New York. With two AFC title game appearances under his belt, there just wasn't enough pressure to push the quarterback to his limits.
Enter Tim Tebow.
With the former Heisman Trophy winner now in the No. 2 spot on the quarterback depth chart, Sanchez will be forced to perform at his absolute best. Otherwise, the fans are going to get loud, the media is going to pile on and chants of "Tebow Time" are going to take over the greater New York area.
The comfort zone is gone. The pressure is mounting and a very popular quarterback is now breathing down Sanchez's neck as we enter the spring months and the first league-wide mini-camps.
The time is now for Sanchez to step up. No more coddling, no more excuses.
If he delivers under the pressure, the Jets know for sure they have their quarterback of the future. And if Sanchez can't handle the heat, the team will know it's time to move on.
That's what Tim Tebow brings to the table and that's why this was a great trade.
Hit me up on Twitter: @JoeFortenbaugh