March 25, 2012 -
Joe Fortenbaugh
Ochocinco coming back to New England for another season
After catching just 15 passes during the regular season in New England last year, many thought Chad Ochocinco's days with the Patriots were over.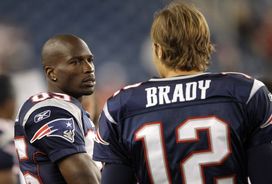 Ochocinco is headed back to New England for another season.
Instead, the veteran wide receiver decided to restructure his contract so he could spend another year under head coach Bill Belichick. Adam Schefter of ESPN reports that Ochocinco has agreed to reduce his 2012 base salary from $3 million to $1 million to remain in New England.
At 34-years-old and coming off the worst statistical campaign of his 11-year career, Ochocinco was likely facing two options: Either take a pay cut and have another shot at winning the Super Bowl with Tom Brady under center, or look for employment elsewhere.
With Brandon Lloyd now under contract, it's unlikely the former Cincinnati Bengal will be anything more than a role player with the Patriots. But for a guy who clearly wants to keep playing, that's still better than watching games from the couch on Sundays.
Hit me up on Twitter: @JoeFortenbaugh