November 01, 2010 -
Joe Fortenbaugh
Odds on where Randy Moss will end up
Despite a 2-5 record, the Minnesota Vikings continue to find ways to dominate the headlines. First it was Favre, then it was Favre, then it was the Moss trade, then it was Favre, and now it's back to Moss.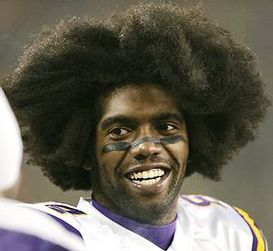 Where you headed, homey?
After Monday's red alert report that the Vikings were going to waive the Pro Bowl receiver they acquired back on October 6, I talked with Dave Staley of Sportsbook.com, a website that just released odds on where Moss will end up after he clears waivers.
I think those Miami Dolphins look nice at +500.
Chicago Bears: +800
Buffalo Bills: +800
San Diego Chargers: +250
Indianapolis Colts: +800
Dallas Cowboys: +1200
Miami Dolphins: +500
New York Jets: +500
New England Patriots: +300
Oakland Raiders: +500
St. Louis Rams: +300
Got a prediction? Leave it in the comments section below.
Hit me up on Twitter: @JoeFortenbaugh