October 21, 2010 -
Joe Fortenbaugh
Odds to win the 2010 Heisman Trophy
After working his magic in a 65-43 ass-kicking of the Arkansas Razorbacks last Saturday afternoon, Auburn quarterback Cam Newton has taken the lead in the race for college football's most prestigious individual award.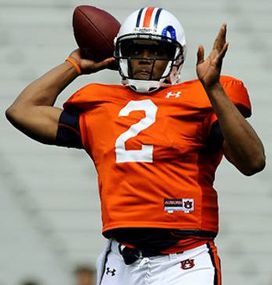 Newton has been on a roll as of late. But can he keep it up vs. LSU and Alabama?
Newton amassed 328 total yards (140 passing, 188 rushing) and four touchdowns in a nationally televised game that vaulted the Tigers to No. 4 in the current—and first—BCS standings. In seven games this year, the 21-year old from College Park, Georgia has accumulated 1,278 passing yards, 860 rushing yards and 25 total touchdowns.
But as good as things look in mid-October for the Auburn quarterback, keep in mind that Newton's Tigers still have two massive games remaining on the schedule which have the potential to derail not only Heisman hopes, but dreams of a National Championship as well. Auburn will host the No. 6-ranked LSU Tigers this Saturday and have to travel to meet the No. 8-ranked Alabama Crimson Tide on November 26 in the infamous Iron Bowl.
If Newton falters, we'd like to offer up the following name for your consideration: LaMichael James.
Oregon's sophomore running back leads the country in rushing yards per game (169.6 yds/gm) and ranks ninth in rushing yards (848) and 11th in rushing touchdowns (9) despite playing one—and in some cases two—less games than any player ranked ahead of him.
After Thursday night's primetime showdown with a UCLA defense that is giving up an average of 182.3 rushing yards per game on the ground, we have a feeling this guy is about to become more of a household name.
Hit me up on Twitter: @JoeFortenbaugh