March 29, 2011 -
Joe Fortenbaugh
One expert puts Cam Newton's success rate at 40%
Cam Newton or Blaine Gabbert?
That's the question that has been steadily gaining momentum since the conclusion of the college football season last January. The debate over which of these two players is the top quarterback prospect in this year's draft has forced analysts, draftniks and fans alike to pick a side in what has become one of the most intriguing positional battles in recent memory.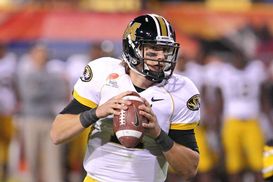 ICONCollinsworth currently gives the edge to Gabbert.
But while some put a premium on Newton's rare athletic ability and others make their case for Gabbert's quick release, one NFL insider takes it a step further and offers his opinion as to the likelihood of success for both Newton and Gabbert at the next level.
Former NFL wide receiver Cris Collinsworth of FootballPros.com said in a recent article that he puts Cameron Newton's NFL success rate at 40%. In addition, after recently evaluating tape on both signal callers, Collinsworth feels that Missouri's Gabbert "will be an effective NFL QB" and gives him a success rate of 70%.
I'm of the opinion that there's better value to be had with a guy like Florida State's Christian Ponder, who is more NFL-ready and will be available later in the draft. But when it comes to the Newton vs. Gabbert debate, I'll side with Collinsworth. Both quarterbacks will have to make the transition to playing in a pro-style offense at the next level, but Gabbert comes with more collegiate experience and less of an ego.
With a top-ten draft pick at the end of April, I'm passing on Newton and the risk he brings to the table. He's not going to be able to run for 1,473 yards in the NFL like he did in 2010 at Auburn.
Collinsworth does go on to say that "if Newton's 40% hits he could be the next Roethlisberger."
Which reinforces the argument that the 2010 Heisman Trophy winner could very well be this year's biggest boom or bust prospect.
Hit me up on Twitter: @JoeFortenbaugh
CLICK HERE to read more from Collinsworth and the rest of his team at FootballPros.com.