July 27, 2011 -
Barry Dorey
Orton-Marshall reunion could be coming soon
While the Eagles and Cardinals continue to hash out the details on one quarterback trade, two AFC teams are closing in on deal involving another veteran signal-caller.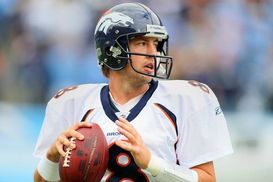 ICONOrton to Miami? That would probably make Brandon Marshall pretty happy.
Mike Klis of the Denver Post reports that the Broncos and Dolphins are currently engaged in 'serious trade discussions' in a deal that would send quarterback Kyle Orton to Miami to be reunited with wide receiver Brandon Marshall.
While we aren't exactly sure what the Fish would be sending Denver's way in return, it's clear the organization isn't fully committed to opening the 2011 campaign with Chad Henne under center.
Think Marshall would be excited to have Orton tossing him the rock again? The Pro Bowl wideout caught 205 passes in the two years Orton was his quarterback in Denver.
Those numbers took a slight dip with Henne at the controls in 2010.
Would Kyle Orton be an upgrade for the Dolphins? Let us know in the NFP Forums!
Hit me up on Twitter: @JoeFortenbaugh