June 04, 2013 -
Joe Fortenbaugh
Our top 5 choices for Hard Knocks
Hard Knocks, the HBO reality sports documentary series that follows an NFL franchise through training camp, is scheduled to return to our television sets this August for its eighth installment. The show has featured seven teams since its inception in 2001 (see chart below) and the speculation is beginning to build as to which organization will appear on the program for the 2013 edition.
While the best possible approach to determining which team should get the nod would be to conduct a nationwide poll of professional football fans, the reality of the situation is that it's not that simple. As we've seen in recent years (most notably in 2012), many teams shudder at the thought of providing total access to their methods. Hard Knocks can be viewed as a distraction and as a result, HBO has to take what the cable network can get.
But that won't stop us from throwing out five teams that we would love to see on the program this summer. Our choices are below and the comments section is open for all of your suggestions.
5. Atlanta Falcons
Why: Because with the possible exception of the Denver Broncos, no team in the NFL is feeling the heat entering the 2013 season quite like the Atlanta Falcons. The Mike Smith-Matt Ryan era has produced a grand total of just one playoff win (1-4 postseason record overall) despite a combined regular season mark of 56-24 (.700).
Storylines: Affable tight end Tony Gonzalez returns for one last shot at a Vince Lombardi Trophy after flirting with retirement this past offseason. Newly acquired running back Steven Jackson looks to get back to the playoffs for the first time since his rookie campaign in 2004. Matt Ryan's contract extension negotiations, assuming a deal isn't reached before August. Rookie Desmond Trufant attempts to fill the spot vacated by veteran cornerback Dunta Robinson. Loquacious veterans Osi Umenyiora and Asante Samuel.
Feasibility: Unlikely, considering the Falcons turned down a chance to appear on Hard Knocks in 2012.
4. Washington Redskins
Why: Because rookie quarterback Robert Griffin III led the Washington Redskins back to the postseason for the first time since 2007 while setting a single-season jersey sales record at NFLShop.com. And because Griffin's popularity alone could result in record ratings for the HBO series.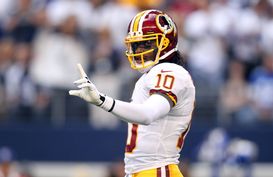 RG3's popularity would deliver huge ratings for HBO.
Storylines: RG3 battles back from a knee injury sustained in a January playoff contest that many believe the quarterback should not have been playing. Head coach Mike Shanahan compares the similarities and differences between Griffin and former pupil John Elway. Loudmouth DeAngelo Hall, owner Daniel Snyder's newfound laissez faire approach to management, running back Alfred Morris' encore to a 2012 rookie campaign that resulted in 1,613 rushing yards (second in NFL).
Feasibility: Zero. Shanahan has already passed on the opportunity with both the Broncos and Redskins.
3. San Francisco 49ers
Why: Because it will mark the first time that the viewing public becomes more captivated by the head coach than the players on the field. Some may argue New York Jets head coach Rex Ryan earned that distinction back in 2010, but the Darrelle Revis contract negotiations dominated that installment of Hard Knocks.
Storylines: San Francisco's attempt to buck history by returning to the Super Bowl one year after losing the NFL's final game of the season. Dealing with the loss of star wide receiver Michael Crabtree to an Achilles injury. Quarterback Colin Kaepernick's progress after unseating Alex Smith, who went 19-5-1 as a starter under Jim Harbaugh. Rookie running back Marcus Lattimore's return from a gruesome collegiate knee injury. And of course, Harbaugh's coaching philosophy and motivational speeches.
Feasibility: Another unlikely candidate after team CEO Jed York said no to the opportunity last season.
2. Seattle Seahawks
Why: Because the bandits from the Pacific Northwest took the league by storm in 2012 and will be the trendiest Super Bowl pick entering September.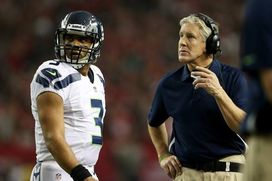 Russell Wilson and Pete Carroll would make for great television.
Storylines: Head coach Pete Carroll may be the most congenial front man in the league while quarterback Russell Wilson is 2012's best underdog story. Marshawn Lynch and his Skittles, Percy Harvin and his new digs, Richard Sherman and his quest to become the NFL's premier cornerback. Offseason personnel upgrades, offseason drama. The San Francisco rivalry, which dates back to Carroll's time at USC and Jim Harbaugh's tenure at Stanford. The 12th man and the most lethal home field advantage in the National Football League.
Feasibility: Doubtful. Seattle general manager John Schneider said no to the chance in 2012, but Pete Carroll isn't the type of guy who has a problem with the spotlight. Here's hoping the Seahawks have a change of heart in 2013.
1. Philadelphia Eagles
Why: Because they're the perfect fit.
Storylines: How much time you got? Let's begin with the obvious, which is the fact that everybody and their mother is interested in what new head coach Chip Kelly has in store for the National Football League. Kelly's up-tempo, high-flying Oregon offense took the college football world by storm and many are wondering if he plans on bringing the same approach to the big leagues. We've also got a heated quarterback battle that includes the controversial Michael Vick, second-year signal-caller Nick Foles and fourth-round pick Matt Barkley. Wide receiver DeSean Jackson provides the sound bites, offensive tackle Jason Peters brings the "return from devastating injury" angle. The defense could feature up to seven new starters, the offense is shrouded in mystery. And let's not forget the fact that Philadelphia posted nine winning seasons in eleven years from 2000-2010 (which includes five trips to the NFC Championship game and one Super Bowl appearance) before a 2011 spending spree and a variety of other factors derailed the franchise and brought an end to the Andy Reid era. It's a fresh start with new faces in familiar places and we all want to know how it's going to play out.
Feasibility: It all comes down to Chip Kelly and whether or not he wants his first NFL training camp to feature the highest possible level of scrutiny. It's an unnecessary gamble for a first year head coach, but the Miami Dolphins seemed to fare all right after Joe Philbin permitted the access last seaso n.
Hit me up on Twitter: @JoeFortenbaugh