April 18, 2013 -
Joe Fortenbaugh
Our top ten must-see games in 2013
Let's begin with the obvious: This is our subjective opinion of the ten best games on the 2013 NFL schedule, as it stands today, April 18. You will not agree with some or all of these suggestions and do you know what? That's just fine with us. The comments section is open for business and each of you is more than welcome to let us know which games you think make for the most entertaining matchups of the 2013 campaign.
We tried to incorporate as many teams as possible into this list, while at the same time attempting to avoid overloading the rundown with divisional rivalries. Sure, a couple well-known hate fests pop up below, but we see Chicago play Green Bay twice every season. Matchups that occur once every few years tend to have a little more panache in our book.
For those of you who reside in Seattle, brace yourselves for Hurricane Fortenbaugh. I'm already in the process of booking my reservations for the San Francisco game and I'm looking to party.
1. Denver Broncos at New England Patriots
Date: Sunday, November 24 (Week 12)
Time: 8:30pm eastern
Channel: NBC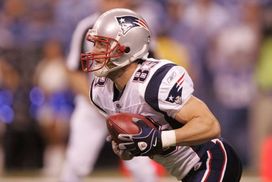 ICONAfter catching 240 passes from Tom Brady over the last two seasons, Wes Welker has joined forces with Peyton Manning.
Why: This showdown marks the 14th time that future Hall of Fame quarterbacks Tom Brady and Peyton Manning will have squared off against one another in either the regular season or playoffs, with Brady holding a 9-4 career record over his chief adversary. And with Manning turning 37-years-old this past March and Brady scheduled to turn 36 in August, who knows how many more of these legendary clashes we as viewers have left. The icing on the cake is that this rivalry takes on a new dimension this season, as Brady's top target in wideout Wes Welker has defected to the other side to join forces with Manning in 2013. Rest assured that both quarterbacks will have this date circled on their calendars.
2. San Francisco 49ers at Seattle Seahawks
Date: Sunday, September 15 (Week 2)
Time: 8:30pm eastern
Channel: NBC
Why: Two Super Bowl favorites from the same division whose head coaches have despised one another dating back to their days in the PAC-10, Seattle vs. San Francisco is the new Pittsburgh vs. Baltimore…except with more offense. Two up-and-coming quarterbacks, two nasty defenses and two of the game's toughest running backs. Both teams defended their home turf against one another last season and both made some serious noise in the playoffs. If Wes Welker hadn't signed with Denver, this would have been our top choice for the 2013 season. Hell, I'm already looking into flights and hotel rooms. Hey Seattle, make sure you've got plenty of bourbon and ice for this weekend.
3. Kansas City Chiefs at Philadelphia Eagles
Date: Thursday, September 19 (Week 3)
Time: 8:25pm eastern
Channel: NFL Network
Why: Andy Reid returns to Philadelphia to face the man who replaced him after 14 years and five trips to the NFC Championship game as the head coach of the Eagles. In most cities, the return of a former head coach who had as much success as Reid enjoyed in Philly would be met with polite applause. But I'm sure we can all agree that Philadelphia is not most cities.
4. New Orleans Saints at Seattle Seahawks
Date: Monday, December 2 (Week 13)
Time: 8:40pm eastern
Channel: ESPN
Why: Take one of the league's most electrifying indoor teams and send them northwest to the most hostile outdoor facility in the entire National Football League and what do you get? The first meeting between the Saints and Seahawks since this happened:
5. Washington Redskins at New York Giants
Date: Sunday, December 29 (Week 17)
Time: 1:00pm eastern
Channel: FOX
Why: The top-two teams in the NFC East butt heads in a late-season showdown with playoff implications more than likely hanging in the balance. The two meetings between New York and Washington in 2012 resulted in a series split that was decided by a grand total of just five points. The Redskins are a team on the rise, while the Giants have a knack for bouncing back in a big way under Tom Coughlin following a disappointing season. So will it be Eli Manning taking second-year quarterback Robert Griffin III to school, or will the young pup state his case as the division's most elite quarterback?
6. Pittsburgh Steelers at Green Bay Packers
Date: Sunday, December 22 (Week 16)
Time: 4:25pm eastern
Channel: CBS
Why: The last time these two legendary franchises got together for a slugfest, the Steelers were walking off the Cowboys Stadium turf under a blizzard of confetti while Aaron Rodgers and Clay Matthews were hoisting the Vince Lombardi Trophy. With two of the deepest, most loyal and passionate fan bases in the NFL, this game has ratings bonanza written all over it.
7. Atlanta Falcons at San Francisco 49ers
Date: Monday, December 23 (Week 16)
Time: 8:40pm eastern
Channel: ESPN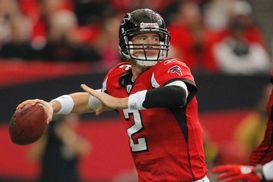 ICONIf Matt Ryan and the Falcons come up short at San Francisco, they may find themselves back in the Bay Area come playoff time.
Why: A rematch of January's NFC Championship game with one important twist: This time, it's the Falcons who have to travel across the country. Not only will this game play an integral role in NFC playoff seeding, but this serves as a major test for an Atlanta Falcons team that is trying desperately to get over the hump and into the Super Bowl. Falcons players will try to sell all of us on the fact that this is just another football game, but we know better. After blowing a 24-14 halftime lead against the Niners back in January, the Dirty Birds will be out for a small piece of redemption in this one.
8. New England Patriots at Baltimore Ravens
Date: Sunday, December 22 (Week 16)
Time: 8:30pm eastern
Channel: NBC
Why: The 2013 AFC Championship game may have been a 28-13 rout in favor of the Ravens, but in the six games between these two organizations prior to last January's Super Bowl qualifier, five were decided by six or fewer points. Tightly contested matchups just so happen to be a byproduct of putting New England and Baltimore on the same field at the same time.
9. Dallas Cowboys at New Orleans Saints
Date: Sunday, November 10 (Week 10)
Time: 8:30pm eastern
Channe l: NBC
Why: High-octane aficionados are advised to buckle up for this clash between the Saints and Cowboys, who have combined to score a grand total of 122 points in their last two meetings against one another. Last season's matchup that saw New Orleans emerge as a 34-31 winner featured five ties, 1,008 total yards of offense and a game-winning overtime field goal. Expect the fireworks to fly once again when two of the league's highest-paid quarterbacks renew their rivalry in The Big Easy.
10. Chicago Bears at Philadelphia Eagles
Date: Sunday, December 22 (Week 16)
Time: 1:00pm eastern
Channel: FOX
Why: Many of you will make the case that there are at least five other games that deserve a spot on this list instead of the Chicago-Philadelphia tilt. That's fine by us. But look at the history between these two clubs. Each of the last five meetings between the Bears and Eagles has been decided by six or fewer points. Throw brand-new offensive-minded head coaches Chip Kelly and Marc Trestman into the mix and we could have the opportunity to play witness to a whole new style of professional football.
Hit me up on Twitter: @JoeFortenbaugh