March 25, 2011 -
Joe Fortenbaugh
Out for redemption
After being named honorable mention All-Pac-10 in 2009 on the strength of 69 tackles, three sacks, four interceptions and two touchdowns, Akeem Ayers found himself on the national radar and in position for a big 2010 campaign.
Not surprisingly, the 6-3, 254-pound outside linebacker from UCLA lived up to the hype and earned first-team All-Pac-10 and third-team All-American honors during his final season with the Bruins.
But a funny thing happened this past winter. After starting 25 consecutive games and becoming one of the country's top linebacker prospects, Ayers turned in a lackluster 4.8 40-yard dash time at February's NFL Combine and suddenly found himself sliding down draft boards.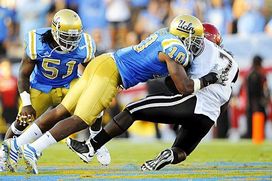 The 21-year-old is now tasked with proving he's still one of the draft's top prospects.
"With the 40, there's a lot of technique," Ayers told the National Football Post during a recent podcast. "When it comes to the game, you're zoned-out, you're just playing football, you're running around and making plays. There's a difference between track speed and football speed."
For those of you who think the Combine doesn't matter, Ayers would be one of the first to disagree. He's spent the majority of the last few weeks preparing for his March 29 pro day in an effort to prove to the NFL that a slower-than-expected 40-yard dash in Indianapolis does not define him as a football player.
"On film I can play football," Ayers responded when asked what he wants to show scouts at his pro day. "They're going to see my competitive side and how much I want to get better as a football player and to improve myself every chance I get."
With two years worth of solid play already down on tape, a good workout at next week's pro day should solidify Ayers spot in the first round while helping to prove that the 40-yard dash isn't the be all and end all when it comes to evaluating football talent.
CLICK HERE to check out Wes Bunting's scouting report on Akeem.
Getting to know Akeem…
Best player he faced in college: Oregon running back LaMichael James
What he would like to buy after signing his rookie contract: Chevy Camero
Who he picked to win March Madness: Kansas
Follow us on Twitter: @JoeFortenbaugh @WesBunting