November 26, 2012 -
Joe Fortenbaugh
Out of the darkness, into the light
Role model: A person looked to by others as an example to be imitated.
One year ago it would have been unconscionable to use the term "role model" in the same sentence as "Penn State University." The institution that at one time served as college football's gold standard for turning high school athletes into men had been shaken to its very core by the vile actions of former defensive coordinator Jerry Sandusky. Penn State became the black sheep, relegated to history as the university that stood idly by during the most heinous scandal in NCAA history.
The head coach of 46 seasons was fired and passed away three months later. The school was hit with a $60 million sanction, four-year postseason ban and watched as all wins dating back to 1998 were vacated from the record books. Star players transferred out while recruits renounced their commitments, opting instead for a more stabile environment. Penn State had a one-way ticket to college football oblivion, the likes of which had not been seen since SMU's fall from grace in 1987.
This is the point in our story where Penn State was supposed to plummet deep into the abyss never to be heard from again. To this point it's been a story without a protagonist, one that featured only villains and victims. However, the latest development in this story is one that has gone largely unmentioned by the national media because scandalous headlines are what sell newspapers. But that doesn't mean the public has lost its affection for a good underdog story. And from deep within the abyss, our protagonists have emerged.
……….
Graham Spanier, Joe Paterno, Tim Curley and Gary Schultz are not role models. They are what's wrong with our society, having played the part of co-conspirators who failed to act when any sense of a moral compass required that they should. Spanier—the former President of Penn State—continues to deny any wrongdoing despite overwhelming evidence to the contrary. His day in court is coming.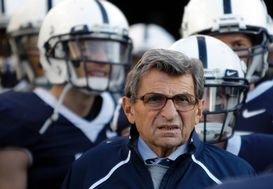 Former Penn State head coach Joe Paterno passed away just three months after being fired by the school.
These four former employees of the state of Pennsylvania—paid in full with your hard-earned tax dollars—should have been the protagonists in this story. After all, they had every opportunity to bring a halt to a grave injustice that was taking place right under their noses. An injustice that was happening to those who could not protect themselves: Children. They opted for a cover-up instead of what was right.
These are grown men who are supposed to know the difference between right and wrong. One of these individuals was tasked with running a university that includes a student body of over 44,000 students while another was in charge of one of our country's biggest collegiate football programs. Both failed.
They are everything a role model is not.
……….
Head coach Bill O'Brien, along with starters Michael Mauti, Mike Zordich, Matt McGloin and the rest of the Penn State senior class are role models. This statement is irrefutable.
O'Brien—a relatively unknown offensive coordinator who was with the New England Patriots before coming to Penn State—stepped up and took the job that nobody else wanted. He was facing sanctions, a bowl ban, an exodus of talented starters and a media firestorm that would be closely monitoring his every move. He took the job anyway, because where some saw disaster, O'Brien saw opportunity. He saw men that needed guidance and direction. He gave them both.
Mauti—a 22-year-old senior linebacker from New Orleans—is barely old enough to legally consume alcohol. He's expected to know the difference between right and wrong, but he's still just a kid. Many of us—this writer included—have made plenty of mistakes past the age of 22.
Mauti could have easily packed it in and transferred out of Penn State in the wake of the Sandusky scandal. Nobody would have blamed him. But at just 22-years of age he became the face of the program. It was Mauti who sent the unifying cry to the rest of his teammates last July, urging them to stay at Penn State and honor the commitment that they had made to the team. In the face of adversity and with the whole world seemingly against them, Mauti and fellow senior fullback Mike Zordich led the team out of the darkness and into the light.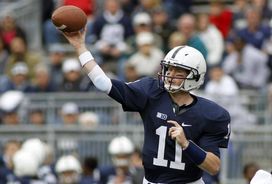 Quarterback Matt McGloin leaves Penn State as the school's all-time single season passing leader.
They exhibited the qualities of character and leadership in a place that had been long devoid of any such positive attributes. They grew up and became men with honor, which was never more evident then during Saturday's 24-21 overtime win over Wisconsin, when Mauti was forced to watch the game from the sidelines after suffering an injury on November 17 against Indiana.
Mauti has suffered three major knee injuries during his career and had to spend Senior Day in street clothes rather than a helmet and pads. I have yet to hear him complain.
McGloin—the team's senior quarterback—became the poster child for persistence after spending four years battling for the starting job with a stable of talent that was supposedly more qualified for the position. He will leave Penn State with his name in the record books. In the wake of the Sandusky scandal, the school's all-time single season passing leader could have transferred or he could have quit. Instead, he decided to stay the course and finish the job.
……….
There are situations that come along in life that demonstrate the true character of a man. Anybody will come off looking good when they're catching all the breaks. But how does one respond when his chip stack is down and his back is against the wall? What does that man do when he's faced with a decision to take the easy road or the right road?
The term "hero" should be designated solely for our military personnel, our police and our firefighters. The word "hero" does not apply to football players. However, the term "role model" most certainly does. And in this instance, in a place that just one year ago served as the example for how not to do things, we have been given a new example by men who aren't even old enough to rent a car.
These are individuals who were punished for a crime they had no hand in committing. But instead of jumping ship, Penn State's senior class made the best of a terrible situation and in the process, taught us all a lesson in what character and leadership are all about.
Hit me up on Twitter: @JoeFortenbaugh