February 06, 2011 -
Joe Fortenbaugh
Packers reign supreme
DALLAS—Once again, Aaron Rodgers found a way to get it done.
After watching the Pittsburgh Steelers cut what at one time had been an 18-point lead to four with just over ten minutes to play in the third quarter Sunday in Dallas, the Green Bay quarterback assumed control and never looked back.
The result was a 31-25 win in Super Bowl XLV and recognition as the game's Most Valuable Player.
Rodgers completed 24 of 39 passes for 304 yards with three touchdowns and no interceptions in Green Bay's first Super Bowl win since the Packers defeated the Patriots back in 1996.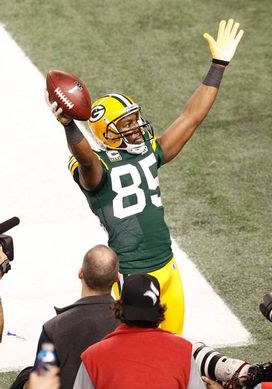 ICONJennings put the nail in the coffin early in the fourth quarter.
But Rodgers wasn't the only Packer who brought his A-game Sunday evening. Wide receiver Jordy Nelson hauled in nine receptions for a game-high 140 yards and one touchdown. In addition, give credit to a Green Bay defense that forced three turnovers that were converted into 21 points for the Packers.
And that, ladies and gentlemen, was the difference in this year's Super Bowl.
After Steelers quarterback Ben Roethlisberger threw two first-half interceptions that Green Bay turned into 14 points, the Steelers fought and clawed their way back to make the score 21-17 with just over 10 minutes remaining in the third quarter.
You could feel the momentum turning at Cowboys Stadium in Arlington.
And just like that, it was gone.
Green Bay linebacker Clay Matthews—a guy who made big play after big play for the Packers this season—put his helmet on Steelers running back Rashard Mendenhall's forearm and jarred the ball loose on the first play of the fourth quarter at the Green Bay 38-yard line where linebacker Desmond Bishop recovered.
Eight plays later, the Packers found pay dirt when Rodgers hit wideout Greg Jennings for an eight-yard touchdown pass, making it a two-score game with just over 12 minutes to play.
Roethlisberger and the Steelers quickly responded with a seven-play, 66-yard drive that cut the lead to 28-25 after Big Ben hit wide receiver Mike Wallace for 25-yard touchdown pass that was followed by a successful two-point conversion attempt.
But the rally fell short after the Packers put together a ten-play drive that took 5:27 off the clock and ended with a 23-yard Mason Crosby field goal.
Pittsburgh trailed by six with two minutes remaining, but their game-winning drive stalled just four plays after it started, kicking off the celebration in Green Bay.
"It is a dream come true," Rodgers said after the game. "It's what I dreamt about as a little kid watching Joe Montana and Steve Young, and we just won the Super Bowl."
Note: Sunday's official attendance came in at 103,219, which falls just 766 people short of the Super Bowl record set in Pasadena at the Rose Bowl back in 1980.
Hit me up on Twitter: @JoeFortenbaugh