July 26, 2011 -
Barry Dorey
Packers say goodbye to Nick Barnett
After eight years with the Green Bay Packers, linebacker Nick Barnett finds himself in search of a new team.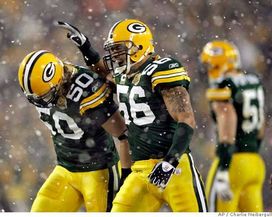 Barnett (center) appeared in 107 games over eight seasons for the Packers.
The veteran linebacker took to his twitter account Tuesday morning to inform his followers that his time in Green Bay has come to an end. Per Barnett, "Just met with Ted [general manager Ted Thompson], Thanks for the great 8 years. Very blessed 2 be apart of such a great tradition and great fans.. Happy I was able to be here for the great xlv run... I will always keep a Special place in my heart for this team and city.."
Per a league source, we've been told the Packers will try to trade Barnett. Should the team fail to find a buyer, he'll be released Thursday evening.
The 30-year-old out of Oregon State recorded 572 tackles and 15.5 sacks during his eight seasons in Green Bay. However, Barnett was limited to just four games in 2010 due to a wrist injury suffered against the Detroit Lions.
Where will Nick Barnett end up? Hit up the NFP Forums and let us know!
Hit me up on Twitter: @JoeFortenbaugh