July 02, 2012 -
Joe Fortenbaugh
Pacman's million
Imagine what could be achieved if you had $1 million to spend in one weekend?
Bengals cornerback Adam Jones can truthfully answer that question. Speaking at the 2012 NFL rookie symposium last week, Jones gave the players in attendance a lesson in what not to do with your money by discussing a weekend in which he somehow managed to spend a staggering $1 million.
While we can only guess as to what Jones' greenbacks were spent on, it got me thinking. If you had the opportunity to live like a rock star (or Jones) and blow $1 million, what could that money get you?
For example…
26,315: Shares of Facebook stock at $38/share when the company went public back on May 18. Unfortunately for Jones, his $1 million investment in Zuckerberg would be worth just $820,501.70 as of Monday morning.
2,020: Rounds of golf at Pebble Beach ($495 per round), which means that Jones could have carded 36 holes every day for just over two and a half years at one of the world's most legendary courses.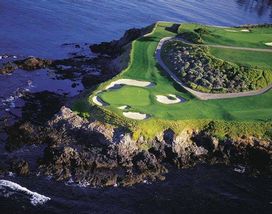 For $1 million, Jones could have had 2,020 chances to ace the legendary Par-3 7th at Pebble Beach.
1: McLaren F1 ($970,000), giving Jones $30,000 left over to pay for gas…or rims.
43: Toyota Prius IIs ($22,800), which would make up the deepest, eco-friendly entourage in sports history.
166: Nights in a 3-bedroom Bellagio Villa ($6,000/night). Yeah, this might not be all that great of an investment for Jones…or the Bellagio.
225,000: Roundtrip tickets from Hoboken to Manhattan via the PATH. Not exactly the flashiest investment, but prudent if Jones plans on commuting from North Jersey to New York City every day for the next 616 years.
1,851: Dinners for two ($270 per person) at The French Laundry in Napa, one of America's most renowned culinary experiences. Unfortunately, that doesn't include the wine…or the reservations, which can be very tough to come by.
5,555: The amount of hungry children Jones could help feed every day for an entire year.
200: Ringside seats for the Manny Pacquiao-Timothy Bradley title fight that took place on Saturday, June 9, which would have cost a total of $240,000.
$2.66 million: The amount of money Jones would have won on that fight, had he bet on Bradley with the remaining $760,000 at 3.5-1 odds.
Less than 1%: Investment in the painting "The Scream" by Edvard Munch, which recently sold at auction for just south of $120 million. Jones' investment would have entitled him to view the painting in his own home for just over three days a year, assuming the buyer wanted to bring the cornerback in on the purchase, which is somewhat unlikely.
1,333: Bottles of 2009 Screaming Eagle cabernet sauvignon ($2,250 for three bottles), assuming Jones was at the top of the waiting list and the vineyard produced that much cab in 2009. Not a bad investment, considering a six-liter bottle of Screaming Eagle's 1992 cab went at auction for $500,000 back in 2000.
OR…
1: Life lessons in money management bestowed upon the NFL players in attendance at the 2012 rookie symposium last week by Adam Jones. It takes a man to admit when he's made a mistake. And if those in the audience took Jones' cautionary tale to heart, you won't be able to put a price tag on that lesson.
Hit me up on Twitter: @JoeFortenbaugh