August 15, 2011 -
Barry Dorey
Patriots checking out Housh, Sharper
Already up two big-name veterans after acquiring wide receiver Chad Ochocinco and defensive tackle Albert Haynesworth last month, the New England Patriots could be at it again on Monday.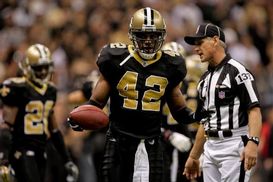 ICONAfter 14 NFL seasons, how much does Darren Sharper have left in the tank?
Ian Rapoport of the Boston Herald is reporting that the Pats will meet with veteran free agent wide receiver T.J. Houshmandzadeh on Monday. In addition, Len Pasquarellli of the Sports XChange is reporting that veteran safeties Darren Sharper and Renaldo Hill will be in New England to meet with the team as well on Monday.
After catching 90 or more passes in three consecutive seasons (2006-2008), Houshmandzadeh's numbers have been in decline since he left Cincinnati via free agency in 2009. The 33-year-old wideout caught 79 passes with the Seahawks in 2009, but hauled in just 30 passes in 16 games with the Ravens last year.
The 35-year-old Sharper was a key contributor on the New Orleans Saints' 2009 Super Bowl team (9 interceptions), but appeared in only eight games last season, making just 16 tackles.
The Patriots could use the experience in their secondary, but Sharper's recent injury history has to be a concern.
Hit me up on Twitter: @JoeFortenbaugh