January 05, 2013 -
Joe Fortenbaugh
Patriots, Niners open as favorites for Divisional Round
Day 1 of the 2013 NFL playoffs is in the books. Both home teams opened and closed as favorites, both home teams covered their respective numbers. All in all, it was a relatively uneventful and predictable start to this year's postseason.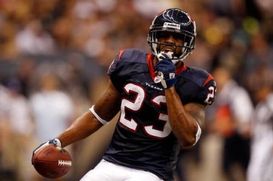 Will a return trip to New England bring a different result for Arian Foster and the Texans?
But while there are still two big matchups left on the schedule before the country's attention shifts to the Divisional Round, bettors in Las Vegas have already begun to salivate over the prospects of making money on next Saturday's slate of games.
After posting a somewhat uninspiring 19-13 win over the Cincinnati Bengals on Saturday afternoon, the Houston Texans opened as a 9.5-point underdog (total of 49) at LVH for next weekend's showdown at New England. Seem a bit high? Well then ask yourself what the public's perception of the Texans is at the current moment. Remember, this is the same team that got rolled 42-14 in Foxborough back on December 10 and hasn't done a whole lot since that game to sway the majority's opinion. Opening at a lower number would no doubt have the books taking a lot of early cash on Tom Brady and the Patriots.
This line got pushed as high as New England -10 for a few minutes before coming back down to its opening number of 9.5.
In the NFC, the Green Bay Packers opened as a 3-point underdog (total of 45) at LVH for next Saturday night's rematch with the San Francisco 49ers. The Packers took down the Vikings 24-10 at Lambeau on Saturday and now turn their attention to a second meeting with a San Francisco team that will have Colin Kaepernick under center instead of opening day starter Alex Smith.
Green Bay fell to Smith and the Niners 30-22 at home to begin the season.
Hit me up on Twitter: @JoeFortenbaugh