March 13, 2013 -
Joe Fortenbaugh
Patriots roll the dice on Welker, who could be headed to Denver
The staring contest between free agent wide receiver Wes Welker and the New England Patriots just took a turn that reminds all of us of why this time of year is so much fun.
ESPN's Adam Schefter is reporting that Welker and the Denver Broncos are currently engaged in "serious talks" in an attempt to finalize an agreement. Schefter goes on to state that a decision is expected today.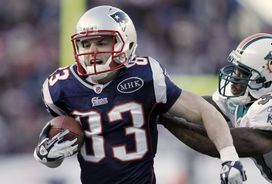 Could Wes Welker be leaving Tom Brady for Peyton Manning?
While age (31-years-old) is one of the notable factors that has created a less than ideal market for Welker's services, many in the industry feel that the nine-year veteran's high level of production over the last six seasons has been a byproduct of playing alongside future Hall of Fame quarterback Tom Brady.
It turns out that the Broncos have a future Hall of Fame quarterback of their own who could probably find a way to make Welker successful within his system, as well.
This has been one of the more intriguing stories of the 2013 offseason, as the Patriots have apparently been unwilling to adequately compensate a receiver who has amassed a staggering 672 receptions and 37 touchdowns during his 93 regular season games in New England. Welker clearly feels he's worth more than what the Pats are willing to pay and is also rumored to be somewhat disgruntled over how he was used during the early stages of the 2012 season.
What better way to stick it to his former team than by signing with one of their biggest AFC rivals?
Hit me up on Twitter: @JoeFortenbaugh