March 15, 2013 -
Joe Fortenbaugh
Patriots trying to steal Sanders from Pittsburgh?
Since Randy Moss left town in 2010, the New England Patriots have tried and failed in their various attempts to procure a wide receiver capable of stretching the field on the outside. Chad Johnson was a 15-catch bust in 2011 while the 2012 version of Brandon Lloyd flashed a knack for disappearing acts that could go toe to toe with Lance Burton's nifty Corvette illusion.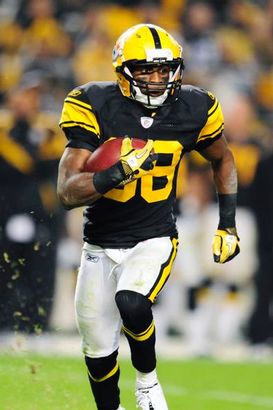 ICONIs it possible that Sanders has played his last game in Pittsburgh?
As a result, the 2013 offseason has brought the Patriots back to the drawing board, where New England is currently attempting to pull of a trick of its own.
ESPN's Adam Schefter is reporting that Pittsburgh Steelers restricted free agent wide receiver Emmanuel Sanders is on his way to New England for a visit with the Patriots.
Pittsburgh slapped an original-round tender on the 26-year-old Sanders, meaning the Patriots would have to send the Steelers a third-round draft pick if they made an offer to the wide receiver that Pittsburgh was unable or unwilling to match.
This is where it gets interesting. The Steelers are pressed up against the cap as is and a front-loaded deal for Sanders could leave Pittsburgh too cash-strapped to match the offer.
Sanders has appeared in 40 games for the Steelers since joining the organization in 2010 out of SMU, catching 94 passes for 1,290 yards and five touchdowns.
With Miami locking up Steelers wideout Mike Wallace to a fat new contract and Sanders possibly on his way to signing with New England, that would leave the Black & Yellow with Antonio Brown as their only wide receiver who amassed more than 17 receptions last season.
Hit me up on Twitter: @JoeFortenbaugh