August 08, 2011 -
Barry Dorey
Pats continue to beef up their front seven
Age is apparently just a number.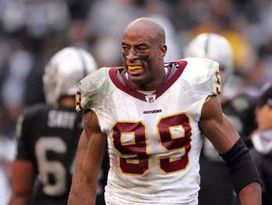 Carter brings ten years of experience to New England.
After acquiring veterans Chad Ochocinco (33-years-old), Albert Haynesworth (30) and Shaun Ellis (34), the Patriots were at it again Sunday when they agreed to terms with free agent defensive end Andre Carter (32), per Carter's twitter account and Mike Reiss of ESPN. Financial details of the contract weren't immediately made available.
A ten-year veteran, Carter spent the first five seasons of his career in San Francisco before joining the Redskins in 2006. He posted double-digit sack totals in Washington in 2007 and 2009.
The move gives Bill Belichick and the Pats more depth for their front seven, not to mention more experience, as new acquisitions Carter, Haynesworth and Ellis bring a combined 30 years of NFL experience to the defense.
It's clear New England believes the time is now.
Hit me up on Twitter: @JoeFortenbaugh