August 05, 2011 -
Barry Dorey
Patterson released from hospital
Mike Patterson has taken his first step on the road to recovery.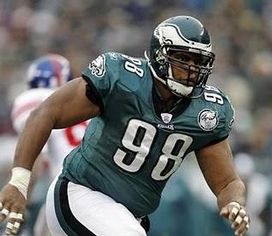 Good news: Patterson has been released from the hospital.
ESPN is reporting that the Philadelphia Eagles defensive tackle—who suffered a seizure on Wednesday—has been released from Lehigh Valley hospital.
The 27-year-old from USC is suffering from arteriovenous malformation (also known as AVM), which is a condition where blood vessels get tangled in the skull. Surgery and radiation are the only two options available for treating AVM.
Patterson collapsed and suffered a seizure during Wednesday morning's practice before being rushed to the hospital. Later that afternoon it was reported that he was alert, in stable condition and joking with members of the hospital's staff.
We wish Mike the best of luck in his recovery.
Hit me up on Twitter: @JoeFortenbaugh