July 26, 2011 -
Barry Dorey
Paul Posluszny is headed to Jacksonville
After four years and 397 tackles, linebacker Paul Posluszny's time in Buffalo has come to an end.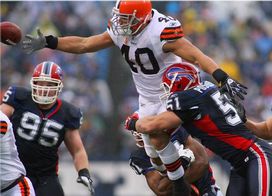 Posluszny started 45 games for the Bills during his four years in Buffalo.
Per a tweet from Jay Glazer of Fox Sports.com, Posluszny will sign with the Jacksonville Jaguars.
A 2007 second-round pick out of Penn State, the 26-year-old has started 42 of 48 games for the Bills over the past three years. Posluszny is coming of a 2010 campaign in which he recorded a career-high 151 tackles in just 14 games.
The Jaguars could definitely use the help as the team ranked 28th in the NFL in total defense last season. In addition to Jacksonville, the Philadelphia Eagles were rumored to be interested in Posluszny's services.
UPDATE: Per Jason La Canfora of the NFL Network, it's a six-year deal.
Will the Posluszny signing have a big impact on Jacksonville's season? Let us know your thoughts in the NFP Forums!
Hit me up on Twitter: @JoeFortenbaugh