March 12, 2013 -
Joe Fortenbaugh
Percy's price tag: $67 million over six years
Wide receiver Percy Harvin wasn't a free agent, but he sure as hell just got paid like one.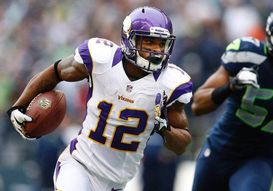 Percy Harvin has plenty to smile about now that he's in Seattle.
Traded from Minnesota to Seattle on Monday in exchange for three draft picks, Harvin has reportedly signed his name on the dotted line of a very lucrative contract. Per Mike Florio of Pro Football Talk, Harvin's new contract with the Seattle Seahawks is a six-year deal worth $67 million, with a $12 million signing bonus and $14.5 million guaranteed.
The trade (and soon enough, this new contract) was met with mixed reactions, as some feel that Harvin's upside isn't worth the trouble or the price tag that comes with the four-year veteran. But the bottom line is that the Seahawks think he's worth the gamble, just like they thought running back Marshawn Lynch and quarterback Russell Wilson were worth a roll of the dice, as well.
Just look at how those two investments are panning out.
Hit me up on Twitter: @JoeFortenbaugh