April 12, 2012 -
Joe Fortenbaugh
Petrino scandal has little effect on Arkansas' title odds
The ripple effects from Bobby Petrino's motorcycle crash have been felt all across the college football landscape. The Razorbacks find themselves without a head coach, Petrino is standing in the unemployment line and you can bet at least a handful of recruits and current players are pondering the idea of jumping ship for greener pastures.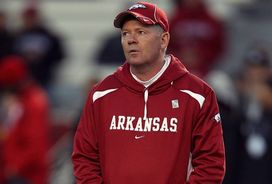 Even without Petrino, bookmakers are hesitant to adjust their odds on the Razorbacks.
However, one of the interesting nuggets to take away from the headline-grabbing scandal that has rocked the University of Arkansas is that even without the services of a head coach who guided the team to a 34-17 record during his four seasons in Fayetteville, the odds for the Razorbacks to win the 2013 BCS Championship have barely budged since the Petrino story broke. In fact, Arkansas has actually moved from 18/1 to 15/1 to win the title since opening at offshore sportsbook Bovada.LV in January.
"We are leaving Arkansas at 15-1 as they are still a potential top-10 team, so we will not move that line until we see who will be replacing Petrino as coach," Bovada.LV sportsbook manager Kevin Bradley told the National Football Post on Thursday. "I am sure it will be a big name guy, and it's possible they could even drop lower than 15-1 as they have already taken quite a bit of money."
Arkansas holding tight at 15-1 despite losing Petrino may come as a bit of a surprise, but they're not the only team that has seen a line move since the odds hit the board in January. Here are some of the key adjustments that have taken place over the last three months:
USC Trojans (Open: 9/1, Current: 4/1): Stanford's Andrew Luck and Oregon's Darron Thomas and LaMichael James have departed for the NFL, which has set the stage for the rise of Troy in 2012. Quarterback Matt Barkley is back under center for his senior campaign with 36 appearances under his belt and the confidence that comes with Heisman Trophy recognition. But the pressure of being the BCS favorite falls squarely on the shoulders of head coach Lane Kiffin, who has the opportunity this season to prove all of his haters wrong.
"USC has been the biggest public side through early betting and it's hard to argue with the Trojans given a favorable schedule in the Pac-12 compared to their SEC brethren," Caesars Senior Race & Sports Analyst Todd Fuhrman told the NFP on Thursday.
Do the Trojans have what it takes to knock the SEC off their championship perch?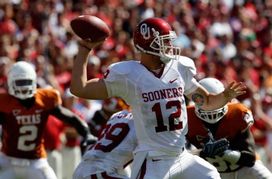 Even with Landry Jones back under center, does Oklahoma have what it takes to win a title?
Oklahoma Sooners (Open: 12/1, Current: 10/1): An abundance of talent and a relatively soft conference have the Sooners as a perennial top-five preseason team, but in my opinion, no squad is more overrated year in and year out than Oklahoma. Since winning the National Championship in 2001, head coach Bob Stoops has gone 6-5 in bowl games and come up short in big spots against LSU (2004) and USC (2005), not to mention presided over the embarrassments against Boise State (2007) and West Virginia (2008).
"We opened Oklahoma higher than most of the market and went as high as 18-1 before taking some sizable wagers on the Sooners," said Fuhrman. "I know I can't speak for everyone, but I'm personally not high on Oklahoma this year. But you can't be stubborn as a bookmaker if bettors see value where I don't."
Miami Hurricanes (Open: 125/1, Current: 75/1): The 'Canes have enjoyed so much success over the last thirty years that bettors will always come to the window willing to take a shot. But where did this drastic line shift come from?
"The Miami line stuns me, because they lost their top running back, top two wide receivers and have serious secondary issues," said NFP college football analyst Dave Miller. "Their quarterback transfer from Memphis has impressed, and they could win seven games with luck...but this team has issues. I have no idea why the line would have jumped."
Florida Gators (Open: 30/1, Current: 50/1): Offensive coordinator Charlie Weis left Gainesville for the head coaching gig at Kansas, which could be one of the reasons why there appears to be little faith in the Gators' 2013 title hopes. However, stability and experience at the quarterback position should give Florida an opportunity to make a little noise in the SEC this season.
Notre Dame Fighting Irish (Open: 18/1, Current: 25/1): A 16-10 record in two seasons as the head coach at Notre Dame isn't the dramatic turnaround the Irish were hoping for when they hired Brian Kelly. But this team has taken steps in the right direction and signed another top-ten recruiting class this past winter. However, dates with Michigan, Miami, Oklahoma and the season-finale road trip to USC could spell disaster.
Hit me up on Twitter: @JoeFortenbaugh
Here's the rest of the rundown: