April 06, 2012 -
Joe Fortenbaugh
Petrino's lie puts Arkansas in a jam
Arkansas head coach Bobby Petrino finds himself neck-deep in a pool of hot water heading into the weekend after shocking reports recently came to light indicating that the Razorbacks boss lied about one crucial detail regarding a motorcycle accident he was involved in last Sunday.
Petrino suffered four broken ribs and a cracked neck vertebra when a motorcycle he was piloting skidded off the road five days ago just outside Fayetteville, Arkansas. During a press conference that was held on Tuesday to address the matter, Petrino never mentioned the fact that someone else was involved in the crash. The school even issued a statement from the coach's family that said "no other individuals" were involved in the accident.
But it turns out that someone else was involved. Her name is Jessica Dorrell and she's a 25-year-old employee of the Arkansas football program who was riding on the bike with Petrino.
She also happens to be head coach's mistress.
So why did Petrino lie? That's simple. He's married, has four kids and probably thought he could get away with it. In Petrino's words, he was trying to keep an "inappropriate relationship from becoming public."
And there's the real problem because Petrino didn't just make a mistake. He tried to cover it up by lying to his boss (Arkansas athletic director Jeff Long). And as a result, the head coach has been placed on administrative leave and could wind up losing his job.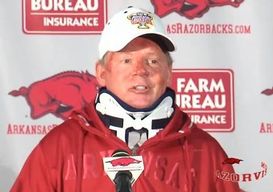 Petrino has been placed on administrative leave after lying to athletic director Jeff Long.
Have we learned nothing from the scandals that took place at Penn State and Ohio State University over the last two years? The cover-up is always worse than the crime. In an era when anybody with a camera phone or a blog can expose your dirty little secrets, there are only two things to do when a situation—like Petrino's motorcycle crash—arises that can blow the lid off the secret life you've been living.
Tell the truth and apologize.
Take the Tiger Woods scandal from 2009 as an example. After a car crash in his driveway landed the golfer in the hospital and eventually exposed a variety of extra-marital affairs he had been having, Woods waited more than two months before he addressed the media. His silence and failure to openly and honestly address the situation sent the media into a frenzy that resulted in tawdry details of Woods' secret life surfacing on a near-daily basis.
And guess what? Woods ended up going on television and essentially admitted to the whole thing anyway! Had he simply done that in the days following the car accident, Woods could have saved himself months of headaches.
Tell the truth and apologize. There's nothing to see here. The media moves on to the next hot scandal.
It's likely that the next time a prominent figure is faced with a situation similar to Petrino's, another scandal is going to take place because the person in question will lie. That's how these things usually go. People don't want to tell the truth because they don't want to deal with the repercussions that will follow.
But just know that people are going to dig and the truth will eventually come to light. At that point, nobody is going to buy your admission of guilt and forced apology. We've seen this type of thing too many times before. Why not beat the media to punch and apologize on your own terms? People will respect you more for it and may actually believe it when you say you're sorry.
Those who fail to learn from history are doomed to repeat it.
Hit me up on Twitter: @JoeFortenbaugh