March 14, 2012 -
Joe Fortenbaugh
Peyton Hillis signs with the Chiefs
Kansas City may not be Langley, Virginia, but at least it's a well-paying job.
The Kansas City Chiefs have announced that the team has reached an agreement with free agent running back Peyton Hillis. Adam Schefter of ESPN reports that it's a one-year deal worth $3 million.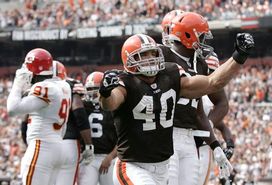 In Kansas City, Hillis will have an opportunity to play a vital role in the Chiefs offense.
In Hillis, the Chiefs have acquired a 6-2, 250-pound bulldozer who brings some much-needed power and depth to the team's backfield. The 26-year-old from Arkansas—who played in the same backfield as Darren McFadden and Felix Jones—rushed for a career-high 1,177 yards and 11 touchdowns in 2010 before hamstring injuries slowed him down last season.
Starting running back Jamaal Charles suffered a torn ACL in his left knee during Week 2 of the 2011 regular season and was lost for the year, but all indications are that he should be ready to go for the start of the season this September. Should he suffer a setback or need additional time to get back to 100%, Hillis gives the Chiefs a viable workhorse who can step in and carry the load.
Hit me up on Twitter: @JoeFortenbaugh