February 17, 2012 -
Joe Fortenbaugh
Peyton Manning should tell the Colts to beat it
Enough already.
The ever-escalating high school drama-fest currently being played out through the media between Indianapolis Colts owner Jim Irsay and the best player in the organization's history has been so mismanaged from the very start that we now find ourselves waist-deep in a political nightmare that is hopefully drawing near its conclusion.
After 13 seasons, two trips to the Super Bowl, four MVP awards and a career that not only erased the Jeff George mistake but elevated the Indianapolis Colts to one of the premier franchises in the National Football League, you would think quarterback Peyton Manning would be shown a bit more respect.
Instead, the future first-ballot Hall of Famer—who started every single game from his rookie season in 1998 through 2010—is now damaged goods in the eyes of the outspoken Irsay and has been subjected to a media campaign designed to have the organization come out on top when the parties' impending split takes place in the near future.
The sad thing is that this whole mess could have been handled in a much more professional manner.
Because that's what Peyton Manning deserves.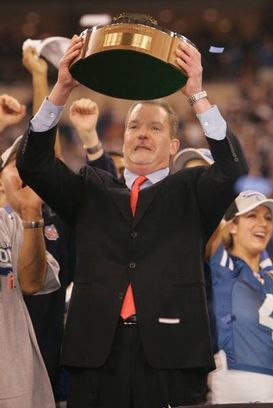 ICONHappy times: Jim Irsay hoisting the AFC Championship Trophy.
Yes, a $28 million bonus is too much to pay for a guy coming off four neck surgeries, especially when you're team has the first overall pick in April's draft.
Yes, this is a business. Players need to strike while the iron is hot and teams need to do what's in the best interest of both their short-term and long-term future. That means making tough decisions and cutting bait on expensive contracts that no longer seem to make much football sense.
But the Manning-Colts relationship is supposed to be different.
This isn't the Philadelphia Eagles kicking wide receiver Terrell Owens to the curb in 2006 after his brash, loudmouth demeanor created such a rift in the locker room that the organization simply had no other choice.
This is Peyton Manning, a guy who won 141 regular season games in 13 seasons. A quarterback who carried his team to two Super Bowls and one Vince Lombardi Trophy. A class act who put the city of Indianapolis on the football map and was no doubt an instrumental reason why a cold, Midwestern city had the opportunity to host—and profit from—their first ever Super Bowl a couple of weeks ago.
From the looks of things, Irsay loves to talk. He wants to be on camera. He wants to see his name in the headlines. Most will tell you that he's one hell of a twitter follow.
But he dropped the ball on this one.
Rather than take this battle public and create a divide in the city of Indianapolis, why not handle the matter behind closed doors? Has Manning ever given anyone a reason to think he'd act in an unprofessional manner and make this thing ugly?
Take, for example, this public exchange between the two parties that took place during the week leading up to the Super Bowl:
Thursday, February 2nd: ESPN reports that Manning has been cleared by two doctors to resume his career.
Friday, February 3rd: Irsay responds to the news via twitter: ""Peyton has not passed our physical nor has he been cleared to play for The Indianapolis Colts. Team statement coming on Friday."
Was it absolutely necessary to immediately go on the defensive? Couldn't Irsay have just said, "Great to hear Peyton has been cleared to play. We look forward to having our team doctors check him out."
Simple, classy, respectful.
I get the fact that Manning isn't innocent in all of this. It was no doubt his camp that leaked the story to Adam Schefter and Chris Mortensen in an attempt to gain leverage in the public's eye. But let's face facts here. Irsay owns the Colts and can cut Manning whenever he wants. He's the boss and it's his decision. Why not smile in public and scowl behind closed doors?
And while we're on the topic, lets be honest about Irsay's "offer" to bring Manning back if the quarterback is willing to restructure his contract. That was nothing more than an attempt by the Indianapolis owner to paint Manning in a corner to make him look like the stereotypical greedy athlete should he decline.
But sadly, this is how relationships often work. One minute you're walking down the street holding hands, the next you're broken up and unwilling to even make eye contact, let alone speak to one another.
This isn't the Philadelphia Eagles and Terrell Owens. This is the Indianapolis Colts and Peyton Manning. It never needed to reach this point. Manning's a pro and he understands that this is a business.
I guess it's just sad to see the perfect couple go through such a bitter breakup when every opportunity was there for the end to be handled amicably.
Hit me up on Twitter: @JoeFortenbaugh