February 05, 2012 -
Joe Fortenbaugh
Peyton Manning to the Redskins? Eskin says 'very likely'
Could Peyton Manning be staring down the barrel of two yearly showdowns with his younger brother Eli?
According to one person, it's "very likely."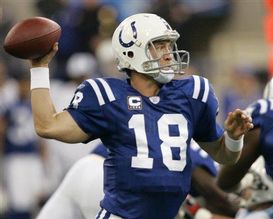 If Manning doesn't return to the Colts, Indianapolis fans don't want him in the AFC.
Longtime Philadelphia sports talk radio host Howard Eskin—who happens to be in Indianapolis this week for the Super Bowl—tweeted late Sunday morning that the Washington Redskins are planning to make a big move to land the elder Manning brother.
"Told by 2 people close to Mannings that Peyton very likely to be a Redskin despite smokescreen being put of their by Skins to seek other QBs."
The tweet takes the recent report from ESPN's Adam Schefter one step further, as Schefter says the Washington brass has had discussions about going after Manning, Green Bay's Matt Flynn and Kansas City's Kyle Orton.
Schefter goes on to report that the 'Skins are also discussing the idea of moving up to the No. 2 spot in April's draft, where they presumably would take Heisman Trophy winner Robert Griffin III from Baylor, should Stanford's Andrew Luck land in Indianapolis.
We've still got one big game left to play, but the offseason drama is already heating up.
Hit me up on Twitter: @JoeFortenbaugh