July 06, 2012 -
Joe Fortenbaugh
Pick your poison: Lynch vs. Richardson
Projecting the future success of rookie running backs in the NFL is a lot like trying to handicap the first week of the college football season. There's plenty of information available to make an informed decision, but there are also plenty of unknown variables that make the process a bit of a crapshoot.
Take Cleveland Browns running back Trent Richardson for example. We all know the guy is a beast who can make plays from all over the field. But what's he capable of achieving in Cleveland's low-octane offense with a rookie quarterback running the show? Do the pros outweigh the cons and make T-Rich worthy of a first-round selection?
For today's fantasy breakdown we are taking a look at whether owners are better suited drafting Richardson or going with a proven veteran like Seattle's Marshawn Lynch.
Marshawn Lynch, RB, Seattle Seahawks
Years Pro: 5
Current ADP: 13.8
Best Season: 2011 (1,416 total yards, 13 touchdowns)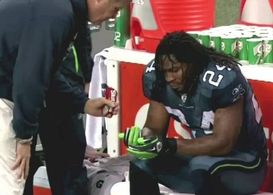 The course of Lynch's success: Skittles
Pros: He's coming off the best statistical campaign of his five-year career, which just so happened to result in a top-5 fantasy finish. Lynch can hurt opposing defenses both on the ground and through the air, but his biggest strength lies in his ability to break tackles and pick up yards after contact. If free agent acquisition Matt Flynn can live up to the hype and high-priced wide receiver Sidney Rice can stay healthy, the improved balance on the Seattle offense should help to open up more running lanes for Lynch in 2012. The 26-year-old averaged a career-high 4.2 yards per carry last season and amassed 100 or more rushing yards in six of the Seahawks' final nine games.
Cons: Was last year a fluke? That's the big question fantasy owners have to ask themselves this summer when evaluating Lynch's potential for a repeat performance. Just remember that 2011 was a contract year for the five-year veteran, so you have to wonder if motivation will be an issue this coming fall. A quick glance at the schedule shows us that Lynch will face some quality opposition this season, including the 49ers (twice), Packers, Bears and Jets, not to mention the new-look Cowboys.
Trent Richardson, RB, Cleveland Browns
Years Pro: Rookie
Current ADP: 13.6
Best Season: 2011 at Alabama (2,017 total yards, 24 touchdowns, 5.9 YPC average)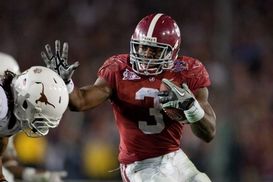 ICONRichardson is going to see a boatload of carries in 2012.
Pros: Considered by many to be the best rookie running back prospect since Oklahoma gave us Adrian Peterson, Richardson is a do-it-all workhorse who is going to see plenty of carries in 2012. He's got the breakaway speed, elusiveness and pass-catching abilities to quickly emerge as one of the NFL's top running backs. In last January's BCS Title game in which all 11 members of the stalwart LSU defense were keying on him, Richardson managed to roll up 107 total yards and a touchdown on 22 touches. He'll be the centerpiece of the Cleveland offense this season.
Cons: The yardage totals will be there, but what about the touchdowns? The Browns ranked 29th in total offense last season, averaged a pathetic 13.6 points per game (30th) and will likely be trotting out rookie quarterback Brandon Weeden to run the offense come Week 1. And let's not forget about the schedule, which features two games apiece against the Steelers and Ravens as well as matchups against the Eagles, Giants, Cowboys and Broncos. That's one nasty gauntlet of defensive opposition if you ask me.
Pick: Keeper league owners are obviously advised to go with Richardson, but what about the rest of us? For me, this decision comes down to value. I'm betting that Richardson is going to be over-drafted this summer while Lynch falls a bit due to concerns regarding his fat new payday and whether or not he'll be motivated. Throw in the brutal schedule and questionable offense and I think Richardson is just too pricey. I'll ride with Lynch.
Hit me up on Twitter: @JoeFortenbaugh