July 23, 2012 -
Joe Fortenbaugh
Pick your poison: Manning vs. Romo
The good news for fantasy owners who fail to land one of the top-five quarterbacks in this year's class is that they won't find themselves up you-know-what creek without a paddle. As we've mentioned before, 2012 offers one of the deepest quarterback classes we've seen in quite a while, with signal-callers such as Jay Cutler and Ben Roethlisberger coming at cheaper prices than ever before.
Today's debate focuses on two NFC East quarterbacks who have what it takes to lead a team deep into the fantasy postseason. It's Eli Manning vs. Tony Romo. Which side are you taking?
Eli Manning, QB, New York Giants
Years Pro: 8
Current ADP: 65.6
Best Season: 2011 (4,933 yards, 29 TDs, QB rating: 92.9)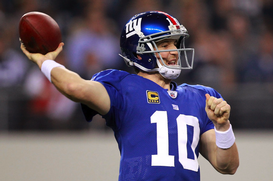 Manning is coming off the most productive fantasy season of his eight-year career.
Pros: He's posted three consecutive top-10 fantasy finishes including last season's career-high sixth place campaign. Manning may have been the best value pick at the quarterback position last year after falling just 67 yards short of a 5,000-yard season that included a career-high 8.4 yards per attempt average. He's got a loaded receiving unit that features 2011 breakout star Victor Cruz along with red zone machine Hakeem Nicks and could benefit from an improved running game thanks to the addition of rookie ball carrier David Wilson (Virginia Tech). And let's not forget that Manning has won two Super Bowls in the last five years and has thrown for 4,000+ yards in each of the last three seasons.
Cons: Touchdown passes don't come as frequently for Manning, who has eclipsed the 30 TD mark just once in his eight-year career (31, 2010). He's completing only 58.4% of his career passes (has never topped 63% in a season) and throws too many interceptions, ranking first in the NFL in INTs over the last three years (55). Keep in mind that while wideout Hakeem Nicks (foot surgery) is expected to be ready for the Giants' Week 1 showdown with the Cowboys, he may be operating at less than 100% for the first few weeks of the season.
Tony Romo, QB, Dallas Cowboys
Years Pro: 8
Current ADP: 50.5
Best Season: 2007 (4,211 yards, 36 TDs, QB rating: 97.4)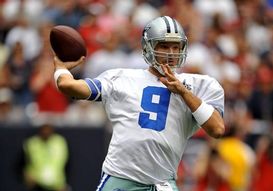 ICONCan Romo stay healthy for a full 16-game season?
Pros: Romo has a career QB rating of 96.9, has averaged 8.0 or more yards per attempt in four of the last six years and has thrown for 4,100+ yards in every season in which he played a full 16 games. He's capable of picking up fantasy yards with his feet and does a nice job of extending plays once the pocket breaks down. In all three seasons in which the Dallas signal-caller has played a full 16 games, Romo has finished the year as a top-7 or better fantasy quarterback each time. With Miles Austin, Dez Bryant and Jason Witten sharing the same huddle, Romo has one of the most explosive receiving units in the NFL at his disposal.
Cons: Health is definitely a concern, as Romo has missed three or more games in two of the last four seasons. In addition, wideout Dez Bryant could be facing a suspension from the NFL for his latest indiscretion, but reports indicate that it would likely be a one-game ban at most. Outside of that, Romo is a pretty solid fantasy option. Remember, his inability to close out games in the fourth quarter and postseason failures mean virtually nothing in the world of fantasy football. Just keep in mind that since 2006, Romo is losing an average of 3.1 fumbles per season.
Pick: Having made every possible start since 2005, Manning offers fantasy owners a bit more stability at a better overall price. But if you're looking for upside, Romo is the play. While the passing yardage totals are likely to be similar, the Dallas quarterback is a better bet to acquire more touchdowns through the air and points via the ground game. It's a higher risk/higher reward-type scenario, but I'm siding with Romo here.
Hit me up on Twitter: @JoeFortenbaugh