June 26, 2012 -
Joe Fortenbaugh
Pick your poison: Rice vs. McCoy
Decisions, decisions. We make them every day and you all know what I'm talking about. Can anyone honestly say they haven't spent at least a couple of minutes debating the merits over whether or not to buy the peanut M&Ms or Famous Amos chocolate chip cookies from the break room vending machine?
Every selection in a fantasy football draft requires you to make a decision. Running back or wide receiver? Is it too early to pull the trigger on a tight end? Throw in the fact that you're working against the clock and you can begin to understand the importance of pre-draft research.
Today's topic focuses on a key decision that many owners will be faced with at the beginning of the first round: Should I go with Ray Rice or LeSean McCoy?
My thoughts are below and yours are more than welcome in the comments section.
Ray Rice, RB, Baltimore Ravens
Years Pro: 4
Current ADP: 3.2
Best Season: 2011 (2,068 total yards, 15 touchdowns)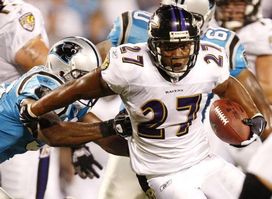 Rice is one of the most consistent running backs in the game.
Pros: He's amassed 1,750 or more total yards in each of the last three seasons and has reeled-in 217 receptions during the same time frame. Rice is a do-it-all running back and is the central figure in a Baltimore offense that ranked 12th in the NFL in scoring last season. The former Rutgers standout has ranked in the top-6 in total touches at the running back position in each of the last three years and is coming off the best statistical season of his four professional campaigns.
Cons: Rice carried the ball 13 or fewer times in five games last season and has seen his stat lines plummet in outings where quarterback Joe Flacco fails to make plays. While 2011 was a remarkable season, the 25-year-old had only amassed 14 total touchdowns over his first 45 NFL appearances.
LeSean McCoy, RB, Philadelphia Eagles
Years Pro: 3
Current ADP: 2.6
Best Season: 2011 (1,624 total yards, 20 touchdowns)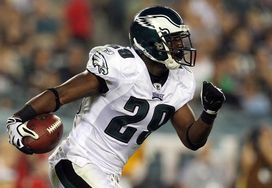 Is there any chance McCoy reaches the 20-touchdown mark again this season?
Pros: Speed, cut-on-a-dime mobility and the elusiveness to turn a four-yard reception into a 25-yard gain are just some of the reasons why fantasy owners are drooling at the opportunity to land Shady this summer. He's averaging 4.8 yards per carry for his career, led the NFL in touchdowns last season (20) and plays on a high-powered offense loaded with weapons, which keeps opposing defensive coordinators from focusing too much of their attention on game-planning for his big-play ability. Oh yeah, McCoy found the end zone in 13 games last season and topped 100 total yards in ten of 15 starts.
Cons: Will the brand-new contract have an adverse effect on his motivation? Probably not, but it's still worth mentioning. PPR owners should take note that after hauling in a career-high 78 receptions in 2010, McCoy's total fell to just 48 catches last season. Also, keep in mind that after carrying the ball 155 times in 2009 and 207 times in 2010, McCoy was handed the rock 273 times last season. It should be interesting to see if the increase in workload plays a role in his 2012 production. Lastly, don't forget about the loss of starting left tackle Jason Peters, who is out for the year after suffering a torn Achilles tendon this offseason.
The Pick: It's a close one, but I'm taking McCoy over Rice if tasked with making this decision on draft day. Philadelphia's offense is just too powerful and I'd be lying if I said that Flacco's inconsistencies didn't worry me. However, PPR owners are advised to give Rice a very thorough look, as he has brought more to the passing game over the last three seasons than McCoy. Bottom line: Both guys are studs. You can't go wrong here.
Hit me up on Twitter: @JoeFortenbaugh