August 23, 2011 -
Barry Dorey
Pittsburgh linebackers continue to get paid
Playing linebacker for the Pittsburgh Steelers is often accompanied by a certain level of prestige comparable to that of being a prizefighter from Mexico or software designer from Silicon Valley.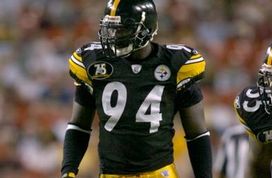 Timmons recorded a career-high 132 tackles last season.
It can also bring with it enormous amounts of cash.
Less than three weeks after 26-year-old LaMaar Woodley inked a six-year, $61.5 million deal, four-year veteran Lawrence Timmons has agreed to terms on a five-year, $50 million contract extension, per Mike Florio of ProFootballTalk.com.
A 2007 first-round pick out of Florida State, Timmons started 15 games for the Steelers last season, racking up 132 tackles (8th in NFL) and three sacks in the process.
He's also the National Football Post's No. 1 ranked IDP linebacker prospect heading into the 2011 season.
Hit me up on Twitter: @JoeFortenbaugh