July 27, 2011 -
Barry Dorey
Plaxico and the Giants will meet on Wednesday
After four seasons, 57 games and 33 touchdown receptions, the New York Giants are very familiar with the skill set that wide receiver Plaxico Burress brings to the table.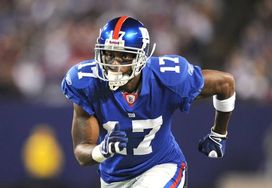 ICONIs it possible that Burress could end up back with Big Blue?
Still, you can't help but shake the feeling that part of this whole song and dance is taking place in an effort to possibly prevent division-rival Philadelphia from adding another offensive playmaker to their arsenal.
Conspiracy theories aside, Burress and Giants head coach Tom Coughlin are expected to meet face-to-face on Wednesday, per Mike Garafolo of the Newark Star-Ledger.
According to the NFL's post-lockout rules, free agents are not permitted to meet with team officials at the organization's facilities until Friday at 6:00pm eastern, meaning Coughlin and Burress won't be getting together at the Timex Performance Center.
It should be interesting to see how this plays out. The Giants currently have Hakeem Nicks and Mario Manningham at wideout and could re-sign veteran Steve Smith to a one-year deal.
The depth chart may be a bit crowded, but that's still a more favorable scenario for Big Blue than possibly having to play against Burress twice a season.
UPDATE: Per Garafolo's twitter account, Burress and the Giants won't meet until Friday, due to league rules.
Is Plax headed back to New York? Discuss it now in the NFP Forums!
Hit me up on Twitter: @JoeFortenbaugh