June 06, 2011 -
Joe Fortenbaugh
Plaxico sending a message that he wants to play in Philly?
In the grand scheme of things it probably means very little, but I'm betting this picture is going to trigger a plethora of frenzied calls to local Philadelphia radio stations.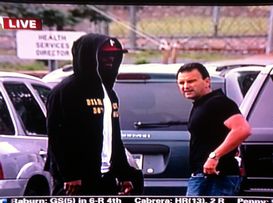 Burress, seen here wearing a Philadelphia Phillies hat, meets with agent Drew Rosenhaus after being released from prison Monday morning.
Plaxico Burress—the former New York Giants wide receiver who spent 20 months in jail for illegally carrying a loaded handgun—exited prison Monday morning wearing a Philadelphia Phillies baseball hat.
For those of you living outside of the Tri-state region, the Plaxico-to-the-Eagles debate has been a scorching-hot topic in the Philadelphia area ever since quarterback Michael Vick told radio station 610 WIP that signing Burress "would be a great addition for our team."
Some fans feel that acquiring Burress could go a long way towards solving the Eagles' red zone woes (Philly ranked 14th in red zone touchdown efficiency last season), while others believe that Plax's best years are behind him.
I realize that a picture of an ex-con in a baseball hat isn't exactly the biggest story of the year, but it's Monday morning and I've wanted to talk about the actual game of football for months now. This lockout stuff is played out.
Hit up the comments section below and let us know your thoughts on where Plaxico Burress will wind up playing football in 2011.
Hit me up on Twitter: @JoeFortenbaugh